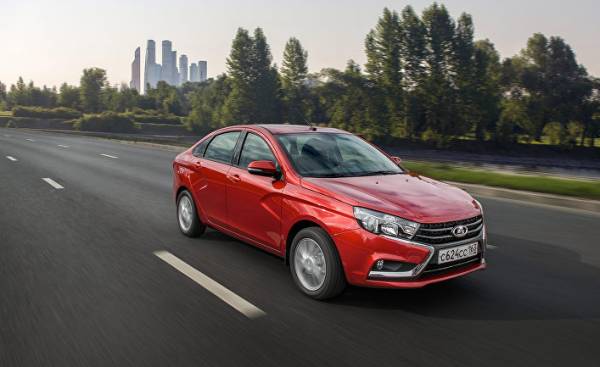 Looking at the Lada Vesta, it's hard to believe, but this car is really full of surprises. The first of these is the price list. 12 490 euros? All right, 12 490 euros! Too much for the car brand, which until now was known only to those that were offered on the German market cheaper than the Eastern European competitor Dacia. And too much for a saloon of the compact class. Dacia for the same money offers not only a larger monocab, a minivan, and even a good "parquet" SUV. So is it too expensive for Lada Vesta, but this new cheap machine from Russia?
Another surprise showed up shortly after I sat down behind the wheel. And some explanation why the German importers of Lada installed it on a car this price. On the instrument panel has a touch display that combines radio, navigation system and other functions. The wheel is equipped with buttons, which allow you to manage all these. Climate control automatically maintains the set temperature. There is another rear view camera to help drivers to Park.
Elements of a class "Lux"? No, rather the attributes that have long been available in cars the more expensive brands "default". But Lada all this can be called innovations. And, apparently, the manufacturer considers their presence is so big breakthrough that sets them in the complete set "Lux". For this reason, the car was placed at our disposal, cost as much as 14 250 euros.
The quality of radio reception at Vesta cannot be called acceptable even in "luxury" configuration. In addition, seat covers are too thin. And in the interior of Lada is the smell of plastic, typical cheap car.
However, all of the above previous models Lada was even worse quality. Now after more or less prolonged time spent in the cabin of Lada Vesta, you are hurting neither the back nor the head. Plastic and looks more decent and nicer to the touch than before. Controls — except for those located below the lever of the automatic transmission buttons for seat heating are located where you expect to see them, and perform those functions which need to perform. The same can be said about the touch screen with a diagonal of seven inches, that responds to your touch, perhaps even better than the displays in some much more expensive cars French or Japanese production.
Place in the new Lada is pretty much front, and rear and Luggage compartment volume of 480 liters. It is possible to further increase to 840 liters by folding the split rear seatback. Unfortunately, the "clearance" remains quite small.
One who is looking for further surprises, discover them, starting the engine. Four-cylinder 16-valve engine volume of 1.6 liter capacity of 106 horsepower at 148 Newton/meter runs surprisingly quietly and quickly. At least before driving on the autobahn. When the speed exceeds 130 km/h, and the task is to accelerate to maximum 180 km/h, the ambitions of the engine is reduced, and it is felt that he runs the risk of "overstretch". However, given the above numbers, you can call it work is quite acceptable. By the way, is too "greedy" Lada Vesta name is not necessary: fuel consumption is an average of 7.7 liters per 100 kilometers.
He could be even more economical, but in this case I need another box — instead of standing 760 euros five-step "machine", which was equipped with our car. By the way, it was not a true "automatic" and manual transmission, equipped with an electronic switch. They moved it very slowly so that other drivers-students find the right gear faster than electronics from Lada. That box can be switched manually, does not make the situation much better. And the sounds produced when switching, do not cause special trust to Assembly.
As for the speakers, the Russian sedan not remember anything special. Lada is set not too hard and not too soft. Therefore, it is not necessary to be neither too fast nor too sluggish — due to its characteristics, it is well balanced. However, the weak sensitivity of the steering wheel does not give reason polihachit.
The thrill of driving this car will be missed reliable brakes. The pedal is too "loose" — leg pressing too much "falls". However, we can say that Vesta is a pretty decent sedan for everyday driving, while, by the way, quite confident moving when sudden gusts of side wind.
However, if the road goes emergency situation, the driver will have to rely only on his own skill: security system Lada meet the minimum level requirements. The machine is equipped with front and side airbags, ABS brakes, ESP and sensors tyre pressure, rain and light. All this is included, and additional hardware not provided. Almost all other manufacturers offer more high safety standards — even in the same Vesta price range. However, almost no one offers a five-year warranty, or standing additional 2,500 euros is installed on the factory gas setting.
If you compare all the advantages and disadvantages of Vesta, we can say that this is the best car made ever under the brand Lada. However, he stands on two, or even three thousand euros more expensive. And 14 000 Euro it is possible to find countless car competitors. They prepare their holders less surprises, but more comfort, driving pleasure — and they're just more modern.
Comments
comments