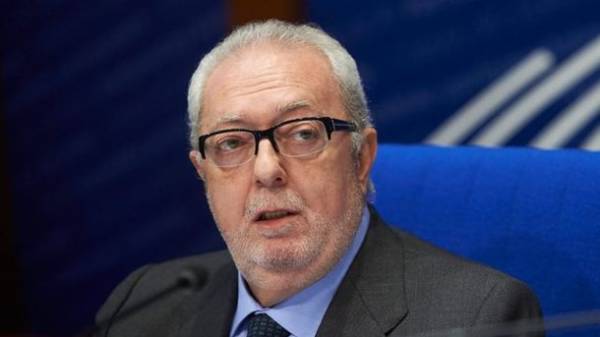 The President of PACE Pedro Agramunt will officially announce his retirement soon after the visit of the king of Spain in PACE, and the statement for addition from itself powers it served as much as 29 may, reports "Ukrainian truth"
.
It is reported that the President of PACE is ready to leave his position, however provided that he is allowed to remain on a post of the President in a speech on 27 April, the Spanish king Philip VI in the plenary hall.
The leaders of the political groups promised to do so in exchange for voluntary resignation.
"Thus, the scheme's resignation will be like this: Agramunt will not even appear in the session hall nor Wednesday, nor Thursday, nor Friday, with the exception of one hour when he will lead the king into the hall and listens to him from the chair in the Presidium of the Assembly.
Then he takes the king home, and after the close of the session – come to the meeting of the Bureau to formally announce resignation", – stated in the article.
However, in the course of the month the resignation will not be documented.
A written statement that Agramunt resignation of the President, he will bring with him to the meeting of the presidential Committee and the PACE Bureau, which will be held on 29 may in Prague.
And the next Bureau at the end of June, the Assembly will have the opportunity to elect a new President.
We will remind, on Monday, 24 April, PACE has officially demanded the resignation of Agramunt for his trip to Syria with the Russians.
After open conflict, during which the Assembly was blocked, Agramunt, was suspended from chairmanship in PACE.
Representatives of the Ukrainian delegation said they plan to make Agramunt "voluntarily" resign.
We will remind, at the end of March in Syria, a delegation of the PACE deputies and the state Duma of Russia headed by President of the parliamentary Assembly of the Council of Europe, Pedro Agramunt, despite the fact that Agramunt was not authorized by the Assembly or its bodies in the exercise of such a visit.
Comments
comments