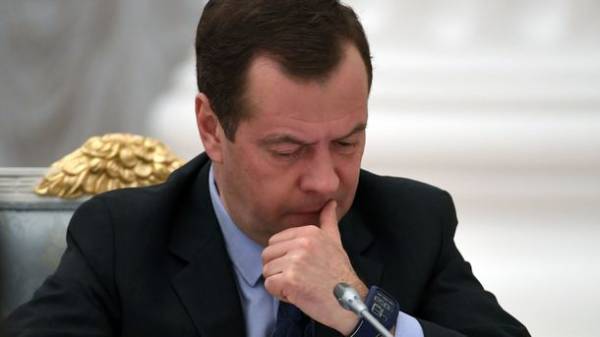 Press Secretary of the President Dmitry Peskov said that opinion polls differ a certain volatility, so the study of "Levada-center", showed a decrease in the level of confidence to the Prime Minister of the Russian Federation Dmitry Medvedev at 10% per month, requires analysis. He also added that such variations are associated with the responsibility of the government.
"Sociology (survey Ed.) published recently, perhaps, we will need time to analyze the data. We are always attentive to sociology, but with known tolerances", – said Peskov told reporters on Wednesday.
"The work of the government complex, the government bears the burden of many decisions related to operational management, and of course, a certain volatility of sociological data can take place. It is quite possible", – said Peskov, vowing to analyze the data of a poll conducted by "Levada-center".
According to the study, which was talked about in the Kremlin, the credibility of Medvedev for the year decreased to 33% (from 53% in may 2016). However, the relative majority of Russians, according to a survey stated that belong to the Prime Minister positively (10%) or neutral (30%), another 21% "can't say anything bad about him".
In early March, the FCO has released an investigation of Russian and foreign real estate, which allegedly belongs to Dmitry Medvedev. Later, the press Secretary of Prime Minister Natalya Timakova said that he considers pointless to comment on "the propaganda attacks of the characters, to imagine themselves as participants in the presidential campaign." In turn, the Kremlin did not become acquainted with the details of the investigation.
Comments
comments