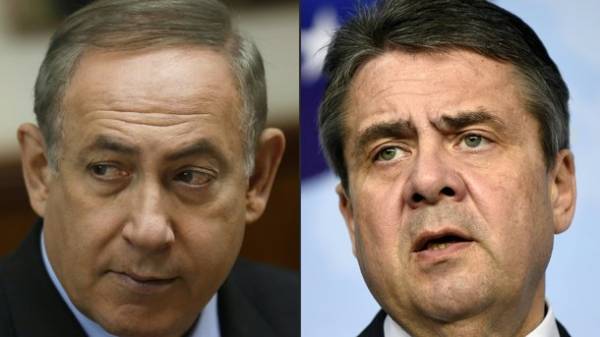 Israeli Prime Minister Benjamin Netanyahu refused to meet with the Minister of foreign Affairs of Germany, Sigmar Gabriel as Minister was to meet with Israeli human rights defenders who criticize the government. It is reported by DW, the TV channel "112 Ukraine".
Meeting the Israeli Prime Minister and head of the German foreign Ministry was scheduled for 25 April, but Netanyahu cancelled it. The reason was the intention of German policy to hold a conversation with representatives of Israeli civil society that oppose further construction of Jewish settlements in the occupied Palestinian territories.
Prior to that, head of the Israeli government gave to understand that he has a negative attitude to the potential appointment of Sigmar Gabriel, left-wing human rights organizations of Israel.
For its part, the German foreign Minister, in turn, tried to explain that the meeting with those who criticize the actions of the government is "absolutely normal practice". "We organize such events for many years in many countries," said Gabriel.
According to him, the cancellation of this meeting with Netanyahu would be a disaster and will not change his relationship to Israel.
The meeting of the German policy with representatives of Israeli civil society will be held in Jerusalem during the afternoon of 25 April. The event will be attended by left-wing unions, in particular, the organization of former soldiers Breaking the Silence ("violation of the silence"), which is critical of the settlement policies of the Israeli government, and NGO B'tselem who care about the rights of Palestinians.
We will remind, on December 23 the UN security Council adopted a resolution which stated that Israel's building of settlements in the occupied Palestinian territory "has no legal effect and constitutes a flagrant violation of international law."
It was supported by 14 members of the security Council, including Ukraine. USA, who have previously blocked such projects, abstained. The authors of the document are Malaysia, New Zealand, Senegal and Venezuela.
Comments
comments