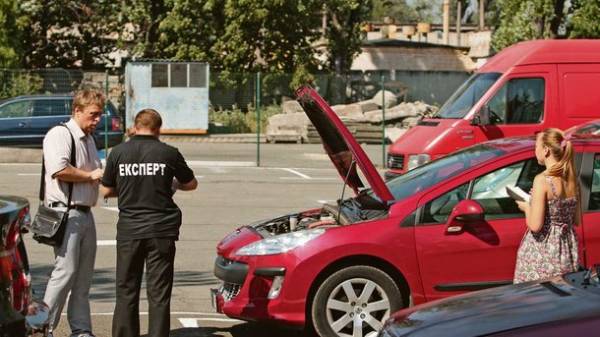 Ukrainians were actively buying used cars from Europe, using the law reduced the excise tax that is earned in August 2016. It is estimated that during this time, Ukraine imported 20 thousand cars. Of them simplified drove to 15 thousand b/u cars and 5 thousand vehicles imported with the payment of the full amount of the excise tax. This is less than in the same period (August 2015 — April 2016) — imported about 25 thousand.
But although experts believe the decrease was due to the fact that in 2015 massively imported used car of environmental standard "Euro-4" and their imports from 2016, we have not. It is now working reduced excise duties on cars, I find "Today".
CHANGED. In 2016, the Council authorized the citizens of Ukraine who buy foreign cars with the mileage for personal use and not for resale, to pay them a much lower excise duty than usual. This gave them the ability to get a car for reasonable money. The law does not apply to cars imported from Russia: as of the aggressor, it can not sell within a year without extra charge to the full amount of excise duty, import person, car has to be older than 5 years.
Rate of excise duty has fallen significantly. For example, when the engine volume up to 1 l — is 0.102 euros per cubic cm (1,094), 2,2—3, l — 0,276 (2,213). For example, for "Skoda Fabia" ("there" 4000 euros) the excise tax decreased from 1638 to 75 euros and the final cost with taxes — 7200 to 5330 million, or 35%.
HOW AND WHY. Increasingly take used car people started from January 2017, after the December 2016 Volyn regional court ruled in favor of the buyer, explaining article 126 of the Customs code, which States that "foreign goods placed under a customs warehouse regime, retain the status of foreign goods".
Simply put, in the words of autoexpert Sergey Kramer, now the Ukrainians do not have to physically cross the border to buy and to bring into the country the car. It can be purchased in a customs warehouse in the territory of Ukraine. It is much easier and cheaper for the buyer — it is not necessary to obtain a visa to go abroad.
At the same time, the CEO of VAAID Oleg Nazarenko says that the court's decision still may be overturned by the Supreme court. Therefore, the option to cross the border personally driving the car seems reliable.
WHAT WE TAKE. As we told Kramer, the biggest demand is for budget cars for 8-15 thousand Euro of the edition 2013-2014 with a mileage of up to 150 thousand. for Example, "Reno Megan" with automatic transmission, Parktronic, and full of "meat" at a reduced excise duty can be bought for a 7.9—8 million euros. And upon payment of full excise duty would be 11 thousand euros. New "Renault Megan" is 16,5—17 thousand euros, i.e. almost half as much.
"Cars with an engine capacity of 1.5—1.6 l economical, so buy them, says Kramer. — The claimed "Volkswagen Golf" models make "Fiat" "Smart" you can buy for 3-4 thousand euros. Not very popular in Europe "Dacia Logan" for lack of a powerful engine (volume 1.2 liters, capacity of 75 L. S.) we demand, as a price of 5-6 thousand euros for b/y, or half the price of a new one. Dacia 2015 model year with mileage 50 thousand km, and gas-cylinder equipment can be bought for 6.5 million euros, five-year "Opel Astra" with a run of 180-200 thousand km costs 5.9—8 thousand euros."
The biggest chance of being sold cars that were used by legal entities, as they serve in the allotted time in the service centers with stamp in the service book. "I bought this "Peugeot-207″ 2013, mileage 120 thousand km for 6000 Euro, very happy", — said the inhabitant of Kiev Maxim Bohicon.
Comments
comments