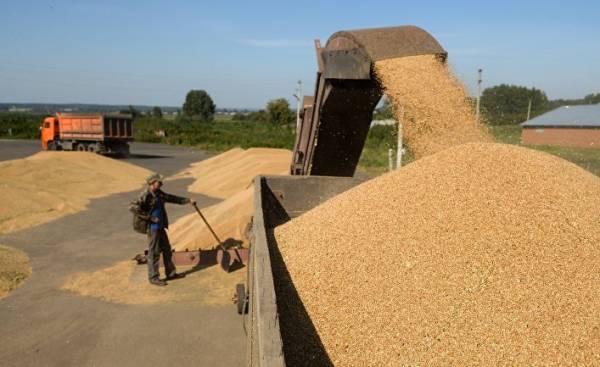 For several years, Russia, which a hundred years ago is almost gone from the world stage, became a new agricultural power, mainly due to the grain. According to Rosstat, Russia produced last year 120 million tons of grain, which became the largest crop grown in the post.
Moscow is slowly winning market share from American and European giants in Asia, South America and even in Africa, where she went to conquer new customers. That's a concern of major producers. According to analysts from the Australian company Aegic, the Russian grain exports to grow by 60% in the period from 2015 to 2060.
Russia beat the American farmers, who were fed once a part of the planet. This information is stated in a long article published by the Wall Street Journal last week. While, according to the U.S. Department of agriculture, the U.S. share of world exports of corn, soybeans, and grain declined by more than two times in comparison with 1970, Russia, in turn, over the past ten years increased the grain harvest by 61 %, and the collection of maize nearly tripled.
Sanctions imposed by the West in 2014 after the Ukrainian crisis, did not prevent the rapid development of Russian agriculture. Unlike most countries, the agricultural sector takes more important role in the Russian economy than 15 years ago. For the first time the export of agricultural products has brought more income than the export of weapons — about $ 15 billion.
Subsidies and investments
In fact, in connection with the sanctions imposed by Europe and the United States, Russia has set itself the objective to achieve food self-sufficiency by 2020. In a country where you need to feed more than 146 million people, food security depends, as in China, from national security. This was confirmed by Vladimir Putin in the end of 2015. Simultaneously with the introduction of retaliatory sanctions on European food products, Moscow decided to increase subsidies to agricultural workers and to allow foreigners to take the land on lease. In the agricultural sector began to invest a large company to get their share of the pie. Russian billionaires Oleg Deripaska and Vadim Moshkovich has invested heavily in agriculture, which contributed, among other things, tax incentives and other assistance from the state.
As a consequence, Russia declared itself not only self-sufficient agricultural country. Now Russia does not need foreign grain, vegetables, poultry and pork. Sanctions, counter-sanctions and other restrictive measures (recently Russia has refused supplies of Turkish tomatoes in response to Turkey's refusal to buy Russian grain) are unable to do anything. Not only the fall of the ruble played into the hands of Russian agricultural products, whose exports cheaper and favorable weather conditions, lower prices for electricity and fertilizer. Only it hadn't ended, I think many people in Russia.
Comments
comments