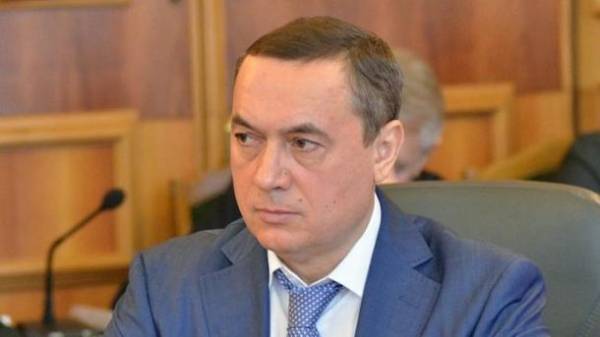 The Solomensky district court of Kiev has released former people's Deputy from "popular front" Mykola Martynenko on bail Minister, the CEC member and 18 MPs from the NF. This is stated in the decree of the court, which issued the lawyer, Martynenko Igor Cherezov.
So, Martynenko vouched Minister of youth and sports Ihor Zhdanov, Deputy Chairman of the CEC Andriy Mahera, as well as 18 deputies from the "popular front" Maxim Polyakov, Vitali korchyk, Georgy Logvynsky, Mykola knyazhytskyy, Pavel Pynzenyk, Elena Ledovskikh, Vadim Podbereznyak, Andriy Teteruk, the head of Bandurenko, Elena Masorin, Elena Boyko, Vladislav Danilin, Victor yelensky, Leonid Yemets, Gennady Krivosheya, Vitaly Stashuk, hwich, Meparishvili and Vadym Kryvenko.
We will remind, on April 20, was detained by representatives of the NAB, former MP from the "popular front" Mykola Martynenko.
The head of the Special anti-corruption Prosecutor Nazar Golodnitsky reported that the ex-MP accused of embezzlement of funds of the SE "Eastern mining and processing plant" in the amount of 17.28 million dollars. Specialized anti-corruption Prosecutor's office during trial regarding Martynenko will insist on his arrest with the possibility of bail of 300 million hryvnia
The detainee stated that the charges against him was fabricated at the direction of the Director of NABU Artem Sytnik for PR purposes and to divert attention from the failures of the Bureau.
Note that 15 MPs and four Ministers want to bail Mykola Martynenko during the consideration of the petition of SAP on the measure of restraint ex-to the Deputy.
On 22 April , the court decided not to arrest Martynenko, releasing him on bail.
Comments
comments