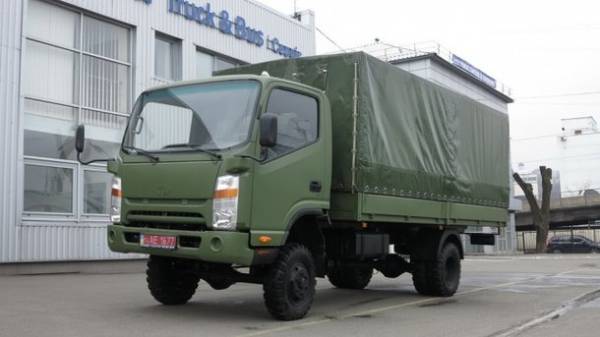 Bogdan Corporation for two years engaged in the development of four-wheel drive medium-duty vehicles for the needs of the Armed Forces of Ukraine. One of the directions was to modernize GAZ 66. From GAZ 66 left suspension, engine and transmission — Hyundai HD. One of the modified chassis used as a base for the manufacture of multi-purpose armored vehicle GADFLY.
The second and more promising direction is the creation of own models on the basis of units Hyundai HD72. The engine is a 3.9-liter turbo diesel D4DB meets environmental standards of Euro 2. Its power is 130 HP and a maximum torque of 380 Nm at 1800 rpm In the new car to the Ukrainian army — the minimum number of electronic devices, fuel system with mechanical in-line high pressure pump.
Design of all-wheel drive was developed in conjunction with the company BS (South Korea). The mechanism enabling all-wheel drive provides protection against incorrect switching modes (drive to the rear axle, the full drive, all-wheel drive and reduction gearing), which in turn increases the reliability of the car. Differential locks on this model.
New model of the car for two years tested in difficult road conditions of Korea and Indonesia, and Iran. On successful completion of the tests on DP ASZ No. 2 was fabricated test specimens of the car.
The new car uses the engine, transmission and rear axle Hyundai HD 72.
Select the base chassis is dictated by the fact that the design of the car Hyundai HD is well suited for operation in difficult road conditions, needs no maintenance and pretty reliable. Indicators of fuel are some of the best in its segment.
The first samples of these Hyundai cars HD successfully operated since 2006. As at date, about 100 cars Hyundai HD without claims serve in the Armed Forces of Ukraine.
Cabin details all-wheel drive car — the production of the JAC. A cargo platform of his own design. The company has developed different versions of 4×4 cars
The car overcomes rises to 40 deg. Ford without preparation is not less than 0.5 m. the maximum speed — 110 km/h.
This is the first modification of the four-wheel drive vehicle. The following modification — with single rear wheels and increased ground clearance: the presented model ground clearance — 240 mm. weight — 7.2 tons Capacity chassis — 4,5 T. the development of a model four-wheel drive vehicle with increased load capacity — up to 8 T.
Comments
comments