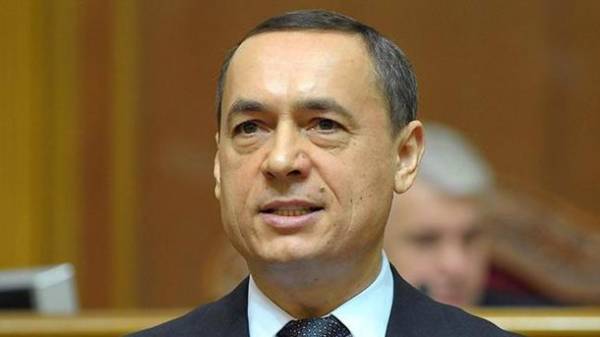 The judge of the Solomyansky district court of Kiev Alexander Bobrovnik released the former Deputy of the Verkhovna Rada Mykola Martynenko under the personal guarantee of the number of people's deputies.
Thus, the judge refused the prosecution in the remand N. Martynenko in the form of detention with possibility of bail in the amount of UAH 300 million.
"Apply to the suspect Martynenko… the measure of restraint in the form of personal security," read the decision of the judge.
Personal guarantors identified a number of people's deputies of Ukraine, including Georgy Logvynsky, Mykola knyazhytskyy, Pavel Pynzenyk, Andrew Teeruk, as well as the Minister of youth and sports Ihor Zhdanov, Deputy head of the CEC Andriy Mahera.
The Prosecutor SAP novel Simkiv said the prosecution will file an appeal. "Now the court ruling will, of course, to run – there is still applied to individual obligations, but will to state its position in the appeal", – said the Prosecutor.
In turn, Martynenko said that the decision of the court satisfied and happy with the fact that "not going to spend the night in jail".
As reported, on 20 April, the detectives NAB and SAP prosecutors detained two individuals – the former people's Deputy of four convocations, the former head of the Parliament Committee on fuel and energy complex Martynenko and one of his accomplice on suspicion of committing crimes under part 1 of Art. 255 (creating criminal organization) and part 5 article 191 (assignment, waste of property or taking to them by abuse of official position) the Criminal code of Ukraine.
Law enforcement officers suspect them of committing embezzlement of the funds of GP "VostGOK" in the amount of 17.28 million dollars through illegal detention and execution of the contract of purchase and sale of uranium concentrate SE "VostGOK" across the Austrian intermediary company Steuermann. SAP requires to elect Martynenko suspect the measure of restraint in form of detention for 60 days with the alternative of payment of the Deposit, UAH 300 million.
Martynenko said that the charges against him was fabricated at the direction of the Director of NABU Artem Sytnik for PR purposes and to divert attention from the failures of NABOO.
Comments
comments