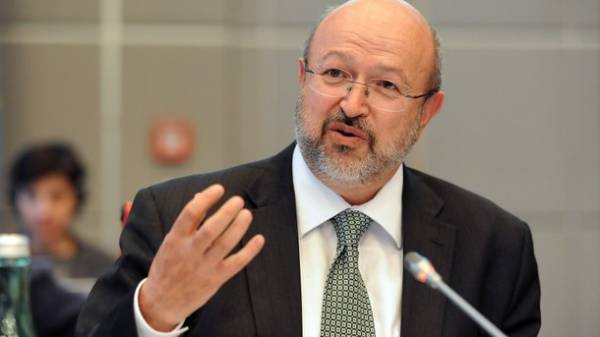 OSCE Secretary General Lamberto Zannier April 24-27 will be in Moscow on a working visit, said on Saturday the Ministry of foreign Affairs of Russia.
April 25 will host the talks between foreign Minister Sergei Lavrov and Zannier. During the negotiations the parties will discuss the OSCE's work to promote the resolution of the conflict in the East of Ukraine, said in a commentary the Russian foreign Ministry.
"Russia cooperates with the special representative of the OSCE Chairman Martin Sidikom in the Contact group and the coordinators of its four working groups. Closely monitoring the activities of the Special monitoring mission of OSCE in Ukraine. Together with the Secretary General intend to consider possible measures to improve its efficiency within the existing mandate. It is important to observe the principles of objectivity and impartiality in the work of the mission," according to the foreign Ministry.
The Russian Ministry also reported that on 24 April, the Director of the Center for conflict prevention of the OSCE Secretariat Marcel Pesko (Slovakia), who is accompanying the Secretary-General's trip will visit the border crossing points "Donetsk" and "Gukovo" on the Russian-Ukrainian border in the Rostov region, where a group of OSCE observers.
"Overall satisfied with the work of the group. Advocate strict adherence to its mandate to monitor and report on the situation at border crossings and cross-border movements," said the Russian foreign Ministry.
The Russian foreign Ministry also said that an important place in the framework of the consultations envisaged by the program of the visit Zannier, "is the settlement of other regional conflicts, which also involves the OSCE, Transnistrian and Nagorno-Karabakh, and the Geneva discussions on stability and security in Transcaucasia."
The Russian foreign Ministry, moreover, said that during the visit, Zannier in the Russian Federation is scheduled to meet Secretary General of OSCE, CSTO leaders; he will also take part in the VI Moscow conference on international security at the invitation of the Ministry of defense of Russia in the Valdai club.
The visit is at the request of the Minister of foreign Affairs of the Russian Federation.
Comments
comments