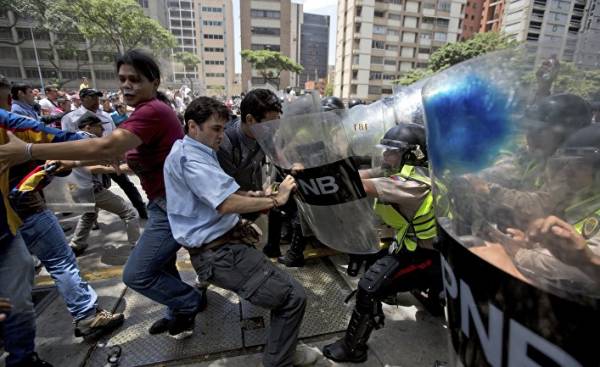 Nicolas Maduro appealed to his followers urging them to be ready for "fast victory". Meanwhile, tens of thousands of Venezuelans have two days to hold a protest, demanding the government comply with the Constitution and early elections. Thus, there is no obstacle to the head of state immediately held free and transparent presidential elections under the supervision of the Organization of American States (OAS).
But if the statements of Maduro are a continuation of normal postolovsky populist demagoguery, for as long as possible to stay in power, then he's committing a serious error, which would entail tragic consequences for the whole country. Three of the victims during a demonstration on Thursday are a sad testimony to the degree of public tension and discontent, which chavistas have brought the country.
In connection with such a dangerous and unstable situation particularly surprised by the irresponsibility of the Vice-President of Venezuela, Tarek El-Aissami (Tareck El Aissami), accused by the U.S. Treasury in connection with a drug cartel operating in the Caribbean, which, instead of calming the people, as befits a leader of his level, blamed for the deaths of protesters, speaker of the National Assembly, Julio Borges (Julio Borges). This accusation is as two drops of water similar to in which on political grounds for three years imprisoned in a military jail, opposition leader Leopold Lopez (Leopoldo López).
In view of the rising tension and political blockade, the reasonable and necessary would be to allow the Venezuelans to freely Express their will. Elections, apparently, would reduce the passions of the protesters and focused efforts of all in the election. But the decision on this issue can only accept Nicolas Maduro.
Comments
comments