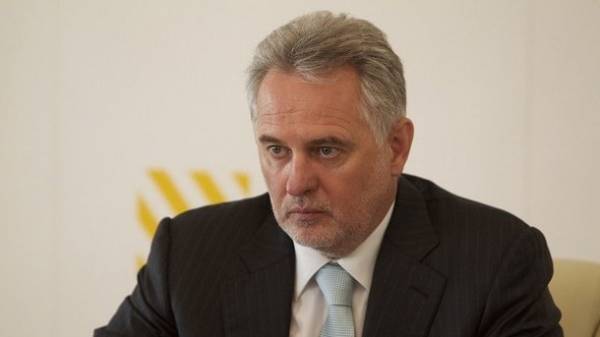 Extradition of the Ukrainian businessman Dmitry Firtash in the USA does not mean that there are guaranteed waiting period. It is likely that the entrepreneur will meet. This was stated by the judge of the superior land court of Vienna (Austria) Leo Lineic-Ivanski.
"It is possible that in the United States will take a decision on termination of proceedings or acquittal," said he.
The judge explained that Washington signed an agreement with European countries regarding the fact that political Affairs are also a reason for extradition.
"We decided that the events that happened in Ukraine three years ago, and America's interests in Ukraine are not related to the essence of the case," he said.
However, as noted by the judge, when deciding the court considered the reliability of the state which has requested extradition.
"The court decided to deny extradition, as in this case, it would be a signal to the criminal community that you can participate in political parties and to cover up thus to their criminal case", – he said.
At the same time, as emphasized by the President of the court, America is a democratic state, in which the accused was not involved in politics. Therefore, the political motivation for the trial does not seem to be relevant.
"The defense talked about the fact that the US threatened the accused of imprisonment for 20 years, and is a violation of human rights on such charges as filed. But we were guided by the fact that major financial irregularities shall decide on 800 years of imprisonment. So the court found that threatening punishment does not violate human rights. And this is only a possibility of making such a decision, not a decision. Perhaps it will not be accepted. We proceed from the fact that the US respect human rights", – explained the judge.
As reported, a court in Austria has allowed the extradition of Firtash in the USA.
We will remind, the Chairman of the Council of Group DF Group of companies Dmitry Firtash was arrested in Austria on March 12, 2014 at the request of U.S. authorities. In the warrant for the arrest of U.S. businessman accused of bribing Indian politicians with the purpose of obtaining valuable mining licenses of iron ore mineral oxide ilmenite.
The Vienna regional court for criminal cases elected him a measure of restraint in the form of the extradition arrest, but agreed to release on bail of 125 million euros and the obligation not to leave Austria.
April 30, 2015, the same court rejected the request of the U.S. justice Department on the extradition of Firtash to America.
A businessman at the end of the trial for his extradition to the US, told reporters in Vienna on intentions to return to Ukraine. At the same time, then he could not specify the timing of the return, citing procedural issues.
Comments
comments