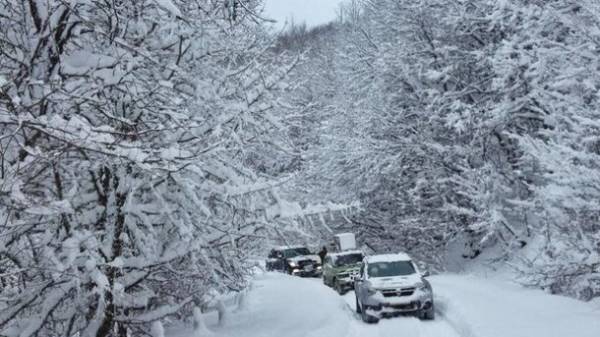 Due to unfavorable weather conditions that led to breakages of power lines and triggering of protection systems as of 19.00 the environment remain de-energized 505 settlements in five regions of Ukraine, the press service of the state service for emergency situations.
In a statement released on Wednesday evening the press-service gschs summary, it is noted that in the Dnipropetrovsk region remain de-energized 287 settlements, and restored it already 11n.p.), in Kharkiv remain without electricity 127н.p. (restored in 24), in Poltava – 53 (restored to 20), in Zaporozhye – 24 (12 restored) and in Kherson – 14 (2 restored).
In addition, inform the Service due to buildup of wet snow and squally wind a drop about 2.5 million trees in Kharkiv (1tys. 828 trees (removed 372), Zaporizhzhya (76 trees (removed 73), Dnipropetrovsk (514 trees (removed 74).
However, traffic on the territory of the Dnipropetrovsk region have already been eliminated with the participation of heavy engineering machinery of the SSES.
"On the roads of state and regional significance congestion is not fixed. Restrictions of movement of vehicles on the roads there," – stated in the message.
To conduct all attracted by 871 units and more than 2.7 thousand people, including from gschs 128 units and 444 personnel.
Currently, weather conditions in Eastern and Central regions have stabilized, there is sometimes heavy rain in the Donetsk region.
However, according to the forecast of the hydrometeorological center on April 20-21 in connection with the movement of the next active cyclone expected severe weather conditions. April 20 in the Carpathian region, Odesa and Mykolaiv oblasts, 21 April in Chernivtsi, Khmelnytsky, Vinnytsia, Odesa, Mykolaiv, Kirovohrad, Dnipropetrovsk, Poltava, Kharkiv regions of strong sleet, sleet sticking, formation of snow cover, wind 15-20m/s. 20-22 APR will remain cold weather, with night frosts 0-5 ° North, April 21, and in the Western regions on the basis of up to 8°, the temperature of 1-8° Celsius.
Comments
comments