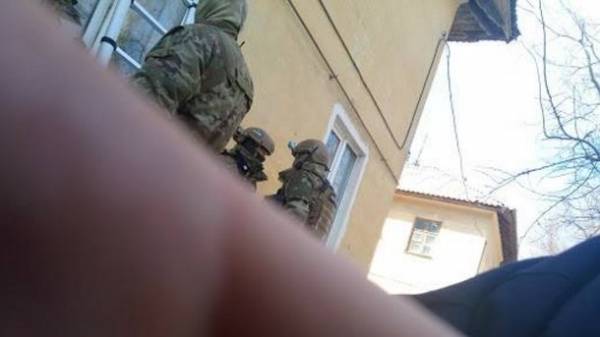 In the Yellow waters SBU officers from the special forces "alpha" carried out searches in the house of Yaroslav the Levents, alleged accomplice of the killer of the former Deputy of the state Duma Boronenkov.
Wife Anna Levenets told that the staff of SBU came 29 Mar to her in a cafe "Floor", where she met with the representative of the press, and ordered to follow them, writes the local edition "Has an opinion".
Not allowed to use a cell phone and tried to pick up the gadget. Two buses with fighters of "alpha" were near the house.
Employees of SBU assured that they need to go into the apartment to find out if there her husband. Wife demanded to know where her husband is.
"He said that I should tell them, otherwise it can kill. He said that he (Yaroslav) you need to give up," said the woman.
Anna has confirmed that her husband was summoned to the Prosecutor's office the day of the murder of Russian politics: "He had the Prosecutor's office, because a week ago he was detained for verification of documents, and the old wanted with it still not removed. It often happens that the search is still hanging in the database, and it has long been lifted, have at least a year. As I understand it, everything is fine, checked and made sure that he was not wanted. And the second thing that happened in Kiev – about the Manifesto (a joint Manifesto with "Freedom", "Right sector" and "Ncorpus"). And in the evening was to discuss the Manifesto, but today he has not come," – said Anna.
Also the wife of Yaroslav Levents said that husband had developed a public organization "defense of Ukraine" and was burning to join hands with other Patriotic organizations. He also conducted classes on combat hopak. In the "Donbass" took part in the fighting in the East in many points of the most violent clashes.
Whether the husband knows him Boronenkov Paul Parchovymi, wife doesn't know. As for cars Daewoo Lanos, which allegedly came the killer Boronenkov, according to Anna, he did not belong to their family. Jaroslav once upon a time own a Daewoo Sens, but he sold out long ago.
"Very experienced, no communication with him. I don't think he's hiding I think he just disappeared," says the woman.
We will remind, on March 23 in the center of Kiev in the shooting a former Deputy of the state Duma Boronenkov, who received Ukrainian citizenship, was killed, his bodyguard and the killer was injured. Soon the killer Boronenkov died on the operating table. The alleged accomplice to murder former state Duma Deputy, Denis Boronenkov Jaroslav Levenets already wanted.
Comments
comments