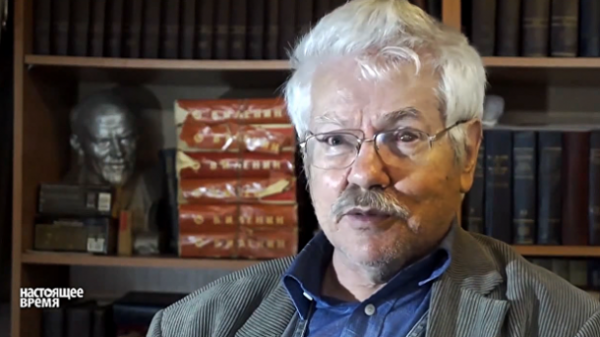 In Russia, journalist and one of the founders of the opposition newspaper "New Petersburg" Nikolay Andrushchenko died on 74-m to year of life in the Mariinsky hospital in St. Petersburg after beating. This was stated by RBC chief editor Denis Usov.
"He demanded some documents. And then on 9 March near the house he was found with a broken head. But the origin of the accident, nobody could establish whether he fell, or hit him. Last month he was in coma and today he died," — said Usov.
That the newspaper "New Petersburg" and the ex-Deputy of the Leningrad city Council, Mykola Andrushchenko, is in a medical coma, on March 31 announced the "Open Russia" the Director of the publishing house "New Petersburg" Alevtina Ageeva. According to her, at that moment, he for two weeks did not come to himself after the beating, which occurred on the night of March 10.
Ageeva said that on the evening of 9 March, Andrushchenko went to a business meeting. On the night of March 10, the ambulance picked up and brought him to the Mariinsky hospital with a traumatic brain injury. After the surgery, the doctors put him into an artificial coma, after which he never regained consciousness. "An assault case is investigating the 78-th police Department of Tsentralny district of St. Petersburg", — said the Director of the publishing house.
According to Ageeva, "the police are unlikely to make a significant effort to the investigation because Andrushchenko wrote a lot about the arbitrariness of the police, and he did not like intransigence".
Chief editor of the "New Petersburg" Denis Usov said "Open Russia" that the journalist was attacked because of "critical articles" in the newspaper. According to him, recently in the newspaper coverage of protests "show the struggle with corruption", and also published the memoirs of journalist Dmitry zapolski links "gangster Petersburg" with the city authorities in the 1990s.
In 2007, Andrushchenko, who wrote a polemical article, after a search of the accused of slander, incitement to extremism and, the pressure on the judiciary. In the same year, Andrushchenko was the defendant in a criminal case on three counts: libel under article 129 of the Criminal code, public calls to extremist activities, article 280 of the criminal code of the Russian Federation and insulting a representative of authorities article 319 of the criminal code.
Comments
comments