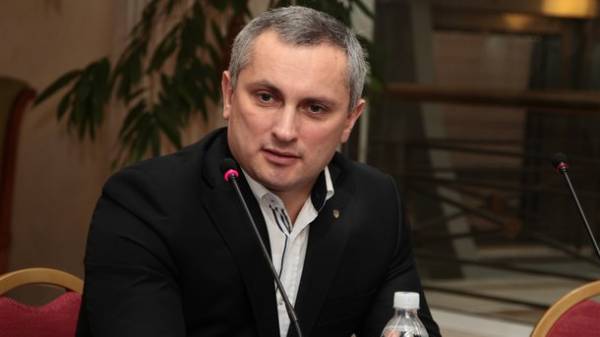 — Sergey, you were recently in the Hague. Why I went, what questions has it raised and solved?
— In the Hague are the main offices of Europol and Eurojust. Because we go there to coordinate international operations in which we participate and which we hold jointly with foreign partners. Personally, I go there rarely, only when it is necessary to make final decisions on the implementation of specific operations. That's the last operation "Avalonia" (see reference. — Ed.) were involved in a lot of countries. And this operation continues until implemented only the first part, ahead of the second and third… around the world have already arrested 16 people, three citizens of Ukraine.
The one who shot at the police officers and the court released while on the run… Discussed in the course of my trip and other ongoing operations, one of which — on the initiative of Ukraine. And in Europol, we discussed the practical side of our actions, and in the Eurojust — what is the correct procedure to issue, subject to the matching requirements of the laws of all countries participating in operations.
— Technically looks like your communication abroad? You speak the language or use an interpreter?
— Europol all communicate in English. For me now it is not a problem. While a year ago, honestly, it was hard… But, Eurojust, at official meetings, we all talk in their national languages. I — Ukrainian. There are special interpreters.
— You once said to our newspaper that often the organizers of Internet scams is sitting in zones of the prisoners. The trend continued?
— If to speak about Internet and phone scams, it is true that in most cases, the main organizers are in places of deprivation of liberty, including in the occupied territories. As for the scams that are on the occupied territories of Donbass, are on leave do not want to! We know specifically of two cases where the term of imprisonment is over, people under various pretexts tried to stay in the area. They are comfortable there, given all the conditions… Among these prisoners, there are even murderers!
Those who long sits are usually good psychologists, able to communicate with people, because they're very good variety of fraud, when it is necessary to persuade people to give their money. In addition, they are willing to use the advice of professionals, particularly computer programmers. For example, some cybermount came to the conclusion (usually in jail) in order to "survive" there, begins to share the secrets of the profession. A skilled con listens and learns… In the end himself becomes the organizer of computer fraud. Picks at large, through associates, competent IT professionals who create and administer the necessary fraud sites.
There are experts who openly advertise and give anyone the so-called "aboutstone" hosting, then there are those that do not provide user information to anyone, even to law enforcement officers upon request. Thus, a criminal chain. The organizer sits in jail and plays the role of a call center, communicating with victims and persuades them to pay. Another participant creates and manages sites, the third fills them with content, the fourth is "mules", receiving on their Bank cards the money of the victims, the fifth to legalize the money and forwards on the area the put part.
Recently we opened such a big Scam. Two of her organizer in jail Donetsk. Other members of the gang of swindlers who were on our territory, we found and arrested. The organizers, on hearing this, immediately stopped off any contact with them. Thrown out of his scheme, like garbage, and immediately began, to our knowledge, to recruit new members of a criminal group. Our operation time was long enough. The first thing we pushed off from SMS like "You won a car". Reported phone numbers and website address with the same phone.
The first task of the Scam is to get people to call, and there are already comes in the organizer and "ubaltyvat" a sacrifice to it paid a payment.
The purpose of invent different: customs fees, paperwork, pension tax, etc. And all this is fueled by haste, saying that if you don't pay, the prize will go to the next on the list, who even posted on the website… That is the crooks are played on different feelings, including greed, they say, you can miss out on the win, you have to sacrifice a relatively small amount to get a lot more (e.g. Skoda Octavia).
After receiving several complaints from the deceived people, we checked the phone numbers listed in messages and on websites. It turned out that each time the message came up with new numbers, they are not repeated. Send messages in different places of Ukraine, two times a day, using a special computer gateway that is installed in the car, of course, no standing place for the difficulty of finding the location of the scammers. Refueled in the GSM gateway from 18 SIM cards and was sending for about an hour.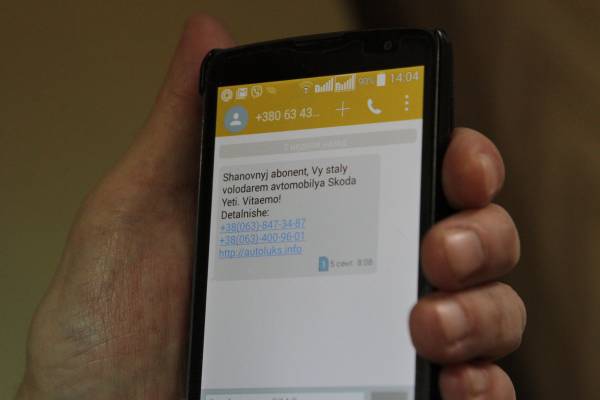 Fake. An example of the allegations of the winning car
Can, going forward, to say that after the arrest we found out that it worked out for the year 15 thousand SIM cards! And another 2.5 thousand new "simok" we found Scam. In General, a database of telephone addresses which they use for mailing, was $ 12 million offer! This base was opened in special equipment, the program randomly selected numbers and sent messages. Only once! Did not pay attention to "win", it means that leave alone. But if a person is "led", dialed the specified telephone and started questioning, when it worked closely, trying to make pay.
Find the car, how was the mailing list was impossible, because the signal came from Kharkiv, Sumy of, from the Poltava region and from other places… Because we started to look for fraud through the already mentioned "aboutstone" hosting, which led us to Kremenchuk, to the person who is in his apartment and his friend was keeping the servers, where were all the resources of fraud. But at the same time there were sites for drug addicts and drug dealers who later worked for our colleagues from the Department concerned.
We this hosting took control and three months quickly this worked. Helped the owner of a hosting, understand that if you do not cooperate with law enforcement authorities, on the court, he will receive a very considerable period. It turned out that the other hired by the organizers of the administrator used a botnet as from the occupied territory and with the Ukrainian frontline. Because it is difficult to carry out operational activities, the appearance of the strangers immediately noticeable.
Botnet — a system of computers that are infected by certain viruses that can be remotely managed by a third — party administrator, without the consent of the owners of these machines could they carry out the necessary actions. These addresses were very much and we had to track each. Go to the owner and he has no idea that someone remotely controls his computer, and manages, for example, con resources… Went through the chain from counterfeit websites via hired administrators and the owner of the hosting (separate group that dealt with sending SMS and receiving money through the card "drops") to the organizers.
But they are, as already mentioned, in the prison of Donetsk… the Income they are, incidentally, had a good: all collected through "drops" the money divided in half. Half went to pay for all members of the chain, operating costs and so on. the Second half was transported to jail. In my experience: about a quarter is received by the organizers of the fraud amount was transferred to the administration of the institution, which allowed to use mobile phones and other concessions. However, now the cash is in the camera already is not recorded: everything is in electronic form and accounts are managed from a smartphone.
With regard to specific groups of fraudsters, which is discussed above, we have already established that using a credit card, working "on them", was about 5 million hryvnia! At the same time we worked only a quarter of these cards, so you can imagine the income of crooks… Maximum payment of one victim in this scheme was 23 thousand hryvnia. This man, after he paid, the fraudsters told the address of the dealership (by the way, present, but, of course, the crooks have no relationship), saying, go, take the car (Skoda SuperB). Sent a special receipt to the e-mail allegedly confirming win. Here he is with this receipt and go… In the cabin, of course, explained to him that the car did not compete, but he himself apparently played…
We continue to look for victims in this scheme. As for the suspects, members of the criminal chain, they are under investigation, but freedom. Courts are generally reluctant to consent to the arrest for computer crimes. The main assistant to the imprisoned organizers gave evidence and… went to Donetsk as born there.
Today we were able to expose another similar fraudulent group that ruled prisoners from the Luhansk area. Only this group is mainly specialized in such lies as "Your relative got to the police" and other fraudulent schemes. All prisoners, who are organizers and participants of these crimes, we installed. In conjunction with the Prosecutor will try to use some legislative changes and correspondence to bring them to justice.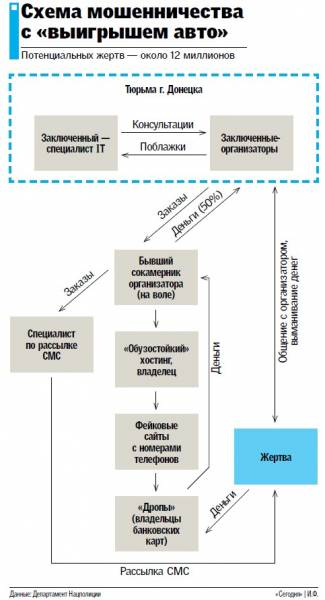 — A few months ago there was a surge of information about yourself inflicted injuries and even suicide among adolescents in certain groups of social networks. A number of groups known under the common name "Blue whales". Tell us about your actions in this regard. What is the situation now?
— Can our actions were not particularly visible, but we in the first days after a recent exacerbation of the problem worked on a solution almost all the staff. First, we did everything publicly, remember, searches and detentions of Ukrainian administrators of certain sites… But it turned out that the publicity harms us. We also began to blame that we did not do so, poor students detained for anything…
You've got to understand that the real administrators of these sites a little and find them hard.
Drawn into the orbit of these games, young people send messages to friends, become a kind of fake administrators. And then in turn the volunteers also created their own websites-trap, trying to do a good deed and to find the real organizers of these deadly games. In short, everything is very confused and it was difficult to work.
We, for example, go to the organizer of such a site, and he said: what do you mean, I'm volunteering to help you… Then we from the publicity withdrew and began to carry out their activities without announcing. Focus groups, where there were already facts of suicide or attempts. We see a lot, but the difficulty is in the fact that VK is a Russian network, which generally is not going to cooperate with us. But get out of the situation, developing their software, helping us to identify users and administrators of suspicious sites.
It is important to separate those resources that are just advertised for them often visited, from those which lead to a devastating impact on the psyche of teenagers. I want to say that similar websites exist for a long time, there was so much hype around them, they added advertising. Then someone came up with this name, "Blue whales", and a suicidal group began to shrink.
As for those two students, we came to them, raided, seized equipment… But they are free because their group suicide was not. There were some injuries, some hand cut themselves, but incitement to suicide was not. Yes it is a bring and prove very hard. In addition, it is necessary to understand that these guys, and the like in Ukraine — a kind of fake administrators, for them, necessarily is the person who will never act from the country where he lives. We went to several supervisors, sitting in Ukraine, but the administrative resources in the Baltic States, Russia, Belarus. We will detain them. And our Ukrainian group, is supervised by citizens of other countries.
Who are these people? In most cases, I think, just patients who want to ensure that they can control other people, until the suggestion of thinking about suicide. But some make money on it, trying to get a scary photo and video. Unfortunately, we have already seen some shooting of this kind (mutilation, jumping from roofs), for example, from Mariupol, appeared on pay sites. According to our estimates, relatively few, 10-15% of all documented cases of violence against them, under the influence of "Blue whales" and the like. Someone satisfy his pedophilic tendencies, trying to force young children to undress and be photographed. And sometimes the administrators of these sites used their influence in others, but also selfish purposes: for example, fished for information about the property parents their Bank accounts and cards…
Most of us revealed recently groups just talking about suicide is, rather, about one or another of greed.
Based on the facts of suicides, which were all conducted criminal proceedings.
We believe that network similar to "Blue whales" lined up. Initially gathered information about the participants, which was treated psychologically, forcing them to tell about themselves and to attract new players. Initially, the focus was more on girls, perhaps because of their psychological characteristics. Then the victim was made (with any of the above purposes) to cause, say, injury to yourself. And in case of refusal threatened to kill the family, as already the administrator or curator has access to all necessary information about the environment of the victim. If they won't listen to us, mom will kill — and called her the address, my name etc. the Child to protect the family, agreed himself all the way up to suicide… Not disclosing any details, I will say that we recently went to such administrator, not fake (like sending messages boys, which 80 percent of total), and the present curator. Now understand that he was driven by illness, greed or something else.
In General, unfortunately, suicides among adolescents, quite a lot for different reasons. Often from a false understanding of unrequited love. And participation in such groups in social networks, where are cultivated the subjects of death and suicide, revolve certain movies, music, etc., only encourage the teenager to such a tragic act. And we in every case dealt with, if the intent of bringing to suicide with someone or the circumstances. And now we have raised the cases of teen suicides even before the hype surrounding "Blue whale", also understand accident there or bringing. We also see the correspondence of members of these groups, and sometimes there are discussed possible suicide, and with most of the future victims. Perhaps there was not outside influence, but we must deal with it.
HELP "AVALANZH" AND "WANNACRYPT"
On the elimination of international criminal cyber network "Avalanzh" last fall, said the Prosecutor General Yuri Lutsenko. According to him, this network has infected millions of computers around the world. Five people were detained, three of them Ukrainian. And the organizer, Gennady Traps that were shot were taken, but then released by the court. Now he is hiding. He was charged with theft using malware about 6 million euros (loss from the network is at least hundreds of millions euros). In Germany, Gennady Kapkanova, for example, faces up to 10 years in prison.
Comments
comments