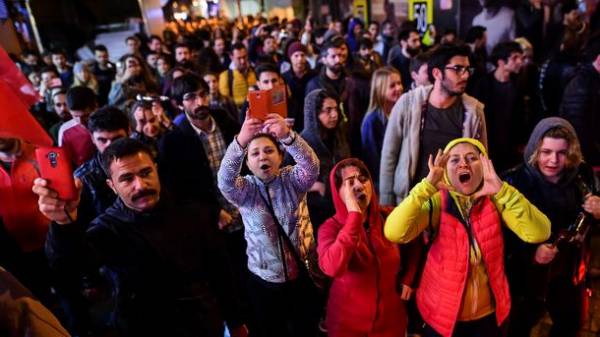 The Turkish opposition intends to appeal the results of the last Sunday of a referendum in the Turkish constitutional court and, if necessary, the European court of human rights (ECHR), said the head of the parliamentary faction of the main opposition Republican people's party Bulent Turkish party.
"As soon as the polls closed and began the counting of votes, we began to receive reports from our observers that the counting occurs is closed. Cases of voting without booths, kept secret from observers counting – all of this will be a dark page in our history. The only way to reduce tensions is to consider the results of the referendum invalid. We will appeal to the constitutional court of Turkey, and if need be, to the European court of human rights", — quotes the TV channel Haberturk, the Turkish party.
As you know, constitutional referendum in Turkey on the transition to the presidential form of government with a parliamentary ended with the victory of his supporters with a narrow margin. According to preliminary data, they scored 51.2% of the votes, which is 1.25 million more than opponents of constitutional reform. Final results will be announced through 11-12 days after appeals.
The opposition has previously stated about violations during the referendum, in particular, criticizing the decision of the electoral Commission to count valid ballots and envelopes without stamps.
A package of amendments to 18 articles of the Turkish Constitution implies that the President becomes the head of the state system, he will be endowed with the power to appoint Vice-presidents, Ministers and senior officials.
The Prime Minister will be abolished. Decisions on the establishment, dissolution, powers, responsibilities and structure of the ministries will be determined in accordance with the decrees of the President.
Right on the Declaration of state of emergency will be received by the President, approve the decision of the President on the state of emergency will be Parliament. The head of state will be able to publish and the other having the force of law decrees, which will enter into force without the prior approval of Parliament, but they can be canceled if lawmakers in the future they will reject.
The President will not be able to leave the ranks of his political party, as provided for in the current Constitution of Turkey.
Constitutional changes in the transition to a presidential system have been adopted by the Turkish Parliament and signed by President Tayyip Erdogan.
A parliamentary form of government exists in Turkey since 1923, when the Republic was proclaimed.
Comments
comments