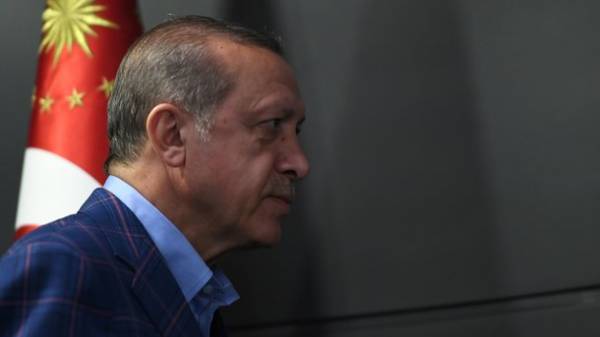 Turkish President Recep Tayyip Erdogan said after a meeting held Sunday, April 16, a referendum in the country's government will begin to consider the need for the introduction of the death penalty. About it reports Reuters.
During a speech to journalists at his presidential residence in Ankara the head of state said that he intends immediately to discuss returning to the Constitution the death penalty with Prime Minister Binali Yildirim and Chairman of the opposition nationalist movement Party (MHP), Devlet Bahceli.
The publication indicates that such a step would mean the curtailment of the negotiations on Turkey's membership in the European Union, which the country conducted since the beginning of 2000-ies – the country that wants to join the EU should not have legislative mechanisms for imposing the death penalty.
Erdogan added that it is possible to hold a new referendum on the death penalty. The Turkish President reminded that the Turkish people resisted during the attempted coup in July 2016 and "suffered defeat".
We will remind, preliminary data processing of the ballots suggests that for changes in the country's Constitution on Sunday in favor of more than 50% of the population.
While the Turkish opposition has already declared intention to appeal against the results of the referendum, as its observers had reported fraud during the counting of votes.
Constitutional changes in the transition to a presidential system have been adopted by the Turkish Parliament and signed by President Tayyip Erdogan.
A package of amendments to 18 articles of the Turkish Constitution implies that the President becomes the head of the state system, he will be endowed with the power to appoint Vice-presidents, Ministers and senior officials.
The Prime Minister will be abolished. Decisions on the establishment, dissolution, powers, responsibilities and structure of the ministries will be determined in accordance with the decrees of the President.
Right on the Declaration of state of emergency will be received by the President, approve the decision of the President on the state of emergency will be Parliament. The head of state will be able to publish and the other having the force of law decrees, which will enter into force without the prior approval of Parliament, but they can be canceled if lawmakers in the future they will reject.
The President will not be able to leave the ranks of his political party, as provided for in the current Constitution of Turkey.
Comments
comments