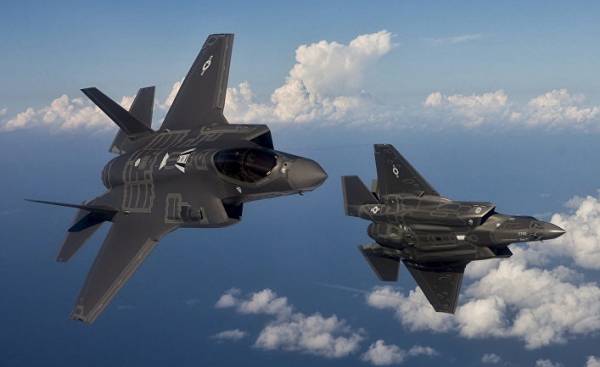 This weekend, the U.S. air force plans to deploy in Europe its latest fifth generation fighter F-35 programme for the security of US allies concerned about the probability of aggression from Russia. The representatives of the Pentagon reported on Friday, April 14.
In Europe will also be deployed several fighter Lightning II, developed by Lockheed Martin, which after a long period of development will be for a few weeks deployed to Europe to participate in exercises together with other aircraft of the United States and NATO allies.
The Pentagon stated that this redeployment was long-planned, stressing, thus, that it is not a reaction to the growth of tension in relations between the U.S. and Russia in connection with the chemical attack of the Syrian regime against civilians and the ensuing missile strike USA.
However, in the statement said that the relocation of the F-35 will be produced in the framework of the NATO Initiative "security of Europe" (European Reassurance Initiative), which was initiated three years ago, after the annexation of Crimea by Russia, has acquired special significance against the background of cooling relations between Washington and Moscow.
The transfer of F-35, often called the most technologically advanced fighters in the world, has become another evidence of the US attempts to increase its presence in Europe.
It should be noted that this transfer happens in the same week that U.S. Secretary of state Rex Tillerson in Moscow, where he met with Vladimir Putin, and after the meeting said that "the current relationship between the US and Russia are at a low point".
Apart from relations with Russia, the deployment of American fighters in Europe, is also for US a chance to demonstrate the potential of the F-35, which were created under the most costly program in the history of the Pentagon.
Allies such as Britain, are preparing to buy these fighters and you can begin using them on a regular basis at the beginning of the next decade.
The Pentagon called the deployment "an important milestone".
"This training deployment is an important milestone and natural next step in the F-35 program, which allows U.S. air force to demonstrate the combat capabilities of the fighter of the fifth generation. It will also help to adjust the requirements for basing the F-35 in Europe that should receive these planes in early 2020-ies, — reads the statement of the Pentagon. — As soon as the planes arrive in Europe, the United States air force in Europe and the US command in Europe will publish further information regarding the deployment of the F-35 to practise the tasks."
Comments
comments