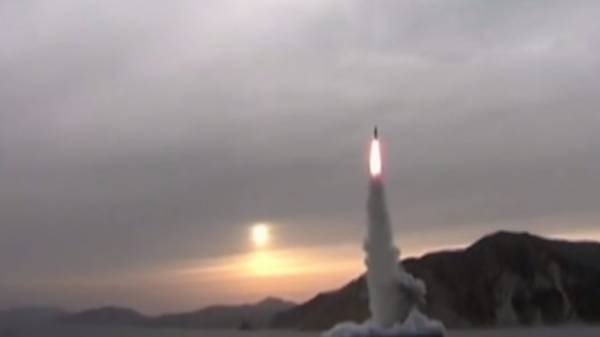 The U.S. military has recorded a missile launch from North Korea near the port city of Shinpo. This was reported in the Pacific command of the armed forces of the United States, reports RBC with reference to Reuters.
According to them, the start was made at 11:21 local time (00:21 MSK). As stated in the command, the missile exploded immediately after launch. The type of missiles at the moment not yet defined.
That North Korea launched a missile, the South Korean military said Sunday, April 16. According to the Agency Yonhap, citing the Ministry of defense of South Korea, the attempt of North Korea to launch a rocket has failed.
The launch was made the next day after the military parade in the DPRK on the occasion of the 105th anniversary of the birth of North Korea founder Kim Il sung. During the parade were shown ballistic missile submarines Pukkuksong-2 and the Intercontinental ballistic missiles.
As reported, on parade in the DPRK demonstrated a ballistic missile. On the eve in the DPRK, urged foreign journalists to prepare for the "big and important event".
We will remind, in Pyongyang, April 15, held a parade dedicated to the 105th anniversary since the birth of Cyrus Il sung, the founder of the state, the grandfather of the current leader, Kim Jong-UN. This day in North Korea is called the Day of the Sun and is considered the main state holiday.
In early April, North Korea conducted the launch of "unidentified missile" to the sea of Japan, reported the military from South Korea. According to them, the start was made from near the port city of Shinpo. Was allegedly launched a ballistic missile, gave the Agency Yonhap, citing military. As reported by the US Pacific command, the North Korean missile fell into sea of Japan. In South Korea, noted that it flew about 60 km. According to preliminary data, the rocket was launched, medium-range KN-15, the maximum range which is 189 km, reported Yonhap, a South Korean official.
After the test, North Korea to the South told about the successful launch of its missiles with a range of 800 km. As reported by Yonhap corisca sources in the Ministry of defence, the test has been warning North Korea, which continues to launch their rockets.
Comments
comments