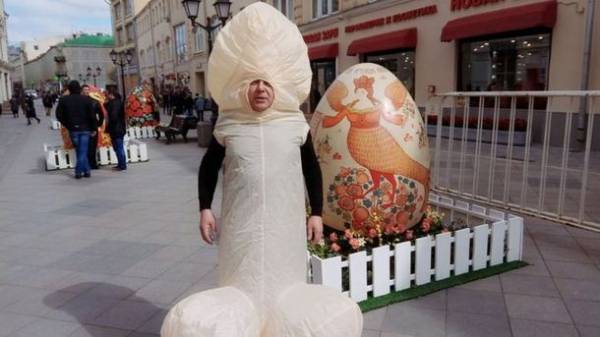 The journalist of TV channel "Rain" Pavel Lobkov detained in Central Moscow in the costume of a penis, said "the jellyfish" on TV. Lobkov was photographed in a suit next to the installation on Nikolskaya street in the form of Easter eggs. The journalist was taken to the police station.
Initially on the arrest said "Russian service Bi-bi-si" with reference to the post colleagues of Sergey Lobkov Erenkova on Facebook. In the article of the edition argues that Lobkov his suit maintained a "composite unity" installation on Nikolskaya.
"Medusa" on the channel "Rain" said that he was filmed for the program "the Burden of news". The story was filmed in full and will be released on "Rain" on April 15. Operator, which together with the Pubic worked on the plot, the delay did not.
Later it became known that Pavel Lobkov was fined 500 rubles for violation of public order, withdrew the suit and released.
Comments
comments