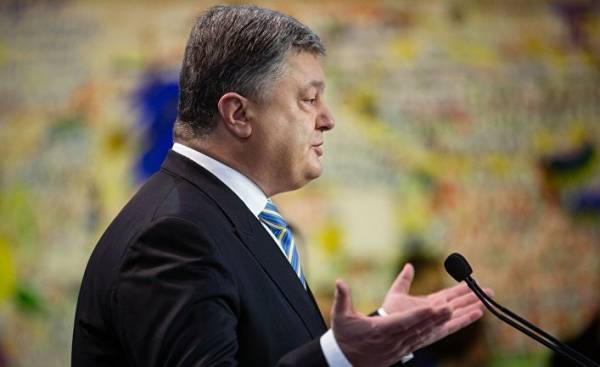 June 7, 2014 Petro Poroshenko was inaugurated as President of Ukraine. In three years as head of state he failed to perform many of the campaign promises, important decisions and actions in domestic and foreign policy became the elements of the show. Why, despite the lack of significant success, Petro Poroshenko has a good chance to win the early presidential elections, and what the window of opportunity remained the head of state, "Apostrophe" said political analyst Kost Bondarenko.
To evaluate three years, Poroshenko is quite difficult because of obscure scale on which evaluation should be carried out. The usual scale is not valid in this situation. Other evaluate politicians on socio-economic, political indicators, international developments and so on. Poroshenko everywhere you can not put any low or negative scores, and dashes at all. If you take the election pledges of Poroshenko, then they met. We never received, but rather received a number of procrastination as it was with the same visa-free regime.
When Poroshenko said that our state enjoys authority in the world — not use it, it had not gained its subjectivity remains a ball in the big game, not the player.
Well-known Polish activist Bohumil Berdychowska asked me if I see the strategy of the current Ukrainian authorities if I see the strategy Poroshenko, what is the strategy.
I answered honestly that the strategy Poroshenko is to hold out a little longer in his chair: no development state, no development of any institutions, nor on specific reforms. If a man wants reforms, then he spends three to four fundamental reform, instead of talking of reforms 63 at the same time. Only in power saving, the preservation of its formal characteristics are the strategic goal of Poroshenko. This goal he achieved three years stayed in power.
Poroshenko alienated virtually all segments of society. Criticize his former colleagues, radical protesters, former colleagues from the Party of regions, ordinary citizens, sensing the pressure of new social problems. Criticize all and Sundry, but he remains in power, and there are no visible signs that the government may lose. Moreover, if he will announce early elections he will win because his anti-ratings lower than the anti-ratings of his opponents. This is the paradox. He did all that in the country under the slogan deoligarchization there was one oligarch himself.
If Poroshenko wants to extend his tenure as President and not be limited to only five years, he might this year in the fall, for example, initiating an early presidential election. Only this year is for Poroshenko the year when there is a window of opportunity to run for a second term. The dynamics of the fall of its ratings is that next year we can talk about the fact that he not only will be able to nominate his candidacy for President, but will not be able to stick his nose out the window.
Poroshenko is no sense of what excites people and how to bring people closer to their dream. He believes that a visa-free regime for them — something important. But from the agenda the question of European integration. No one suggests that we go join the EU — this is ridiculous. Today, our goal is not the Association with the EU, and the agreement on visa-free regime. For us it is more important than integration. The European Union clearly said that in the next 25 years, the question will not be considered. A vacuum of meaning. The country exists, but it has also something to strive for. State ideology is not popular.
So he would gamble on bezveza will say that this is his main achievement, his victory. But bezviz — this is a technical point whose value is lost on June 11. Someone thinks that on 11 June there will be a firework of possibilities, when people realize that there are no boundaries. But this liberalization of the visa regime. People will get permission to enter the Schengen countries not in the consular offices, but directly at the border crossing. Contacting not a visa officer, and with the border guard, who will decide to admit or not to admit a citizen in the country.
I think when people understand that this is too high hopes turn into great disappointments, then the situation with bezveza can sadly lead to Poroshenko.
The fight against corruption has become part of public show. Corruption has not diminished, despite the fact that struggling Prosecutor General, NAB and a dozen structures. It was more than in the days of Yanukovych. How many different kinds of high-profile cases against judges and officials. A few days later talked about the fact that he stole so many millions, so many found a home in the basement, in the Bank, and then it suddenly went away. We must not fight corruption and its causes. No corruption there, where there is no bribe. It is therefore necessary to minimize all the issues related to the licensing and regulatory policies, to reduce the number of officials and those functions that are solved at their level, simplify the system for obtaining documents. Bribes then the question disappears by itself. To change the approach to the tender, and personnel policy. In result, the share of corruption is reduced to the level of statistical error, as it is in other States. There is no state where there would be no corruption. In Ukraine corruption has become a national idea.
Therefore, foreigners will not give us the money and offer loans. Once Churchill said that we borrow the money at the time and others, and you give your and forever. We must remember that we are giving money with interest. Given that the IMF provides loans on special terms, and has to pay the interest is superawesome loans. Accordingly, the country falls into a long-lasting bondage. May God grant us to get out of it in 30-50 years.
Now our entire foreign policy is aimed at the same thing — to organize a meeting between US President Donald trump with Poroshenko. For us there are no other problems. We're not talking about what are an effective tool in the hands of the American foreign policy machine, we can't say we are puppets of the United States. For us now the main thing — trump will meet with Poroshenko or not.
The impossible does not happen. Trump has met with President of Tajikistan Emomali Rahmon (21 may in Riyadh, Saudi Arabia — "Apostrophe"), why not meet with the President of Ukraine. I don't think Rahmon from the point of view of big politics is a big figure, than Poroshenko. But trump and him have already met. And Poroshenko yet.
Although trump has met with Minister of foreign Affairs of Ukraine Pavel Klimkin. In this situation, the initiative came from trump. After a meeting with the Minister of foreign Affairs Sergey Lavrov to relieve a number of uncomfortable questions. To soften the blow, he invited Klimkin: "Who is there, Klimkin, let's have it — we get a picture". To the question of senators: "Why did you meet with Lavrov?" you could always answer: "I Klimkin met". With Lavrov, he met and engaged in dialogue for several hours, and this was preceded by the meeting of Lavrov with U.S. Secretary of state Rex Tillerson and conversation trump Putin, and that's one thing. Another point is, when Klimkin and Ambassador of Ukraine to the United States Valeriy Chaly allowed to be photographed next to the table trump. Then he said, "thank you, all freedom."
I'd like to hope that the years that remained with Poroshenko, he will spend not only to strengthen its own position, and to think what name, the image he will go down in history.
Comments
comments