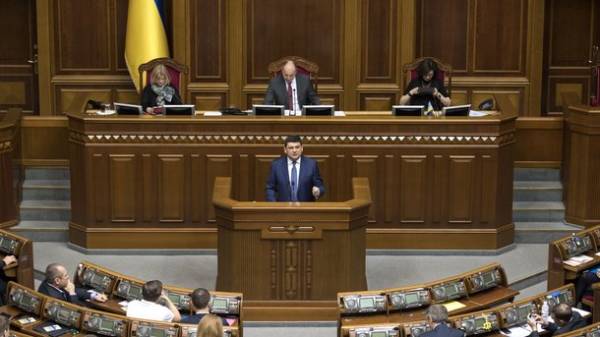 Specific decisions in the Verkhovna Rada this year will provide an opportunity to begin to restore social justice, to ensure stable economic growth, continue the overhaul of the country, which is very necessary today. This was stated by Prime Minister Vladimir Groisman in the Parliament during the "Hour of questions to the government."
According to him, the decentralisation and state priorities identified in the budget for 2017 year, the government focused on upgrading infrastructure, promoting energy independence and the restoration of Ukrainian roads.
"To achieve this, this year we need to make at least five decisions", – said Groisman.
1. Pension reform
"We need to have effective pension reform – the government will propose a model that will give you the opportunity from 1st of October this year not to give handouts, as it was done before power, and to raise pensions from 200 to 1000 UAH per month" – said the Prime Minister. Thus, as he said, the macroeconomic indicators of Ukraine will remain absolutely stable.
"We will cancel you and the taxation of pensions for working pensioners, will make recalculation 4 million in pensions and raise the minimum social standards. With this program we will cover 9 of the 12 million Ukrainian pensioners", – said the Prime Minister.
2. Land reform
"We need to make changes in land relations. Today the Ukrainian government is initiating a reform which will give the opportunity to individuals-Ukrainians each other to sell the land to form a real farm class in our country", – said the head of government.
3. Sale of state-owned enterprises
"We need a balanced approach to the sale of underutilized state assets. We have 3 500 state-owned enterprises, which are teeming with corruption and inefficiency. 82 billion in losses bring these businesses to the state. 50% of companies do not work, only 30% are profitable, others are unprofitable," – said Groisman.
In his opinion, the public competitive sale will provide an opportunity to bring into the economy new investments, create new jobs, introduce new technologies.
4. Reform of the education system
"There is no country which would ensure growth and development with a weak education system. We brought in Parliament and together work with you on education reform. We need to accelerate the adoption of these solutions. Ukrainians need to access new high-quality Ukrainian school", – said the head of the Cabinet.
5. Health care reform.
"We need to do reform, which will unite us and will be a compromise. It is better to act than to do nothing. It is better to act to create a new health care system, to create high quality, medical district, to create high-quality health care institutions in which people can get not just the physician, and effective treatment, diagnosis and prevention of diseases," concluded the Prime Minister.
As reported, in early April the Cabinet of Ministers approved the plan of action until 2020.
Comments
comments