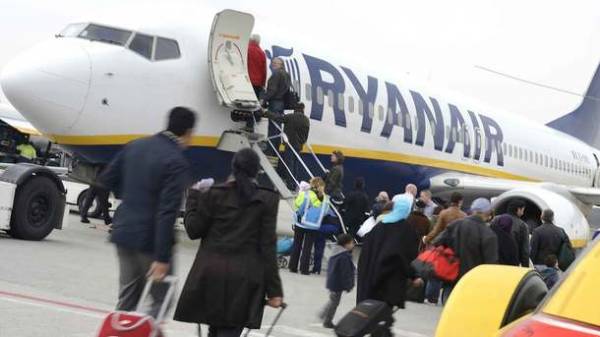 A leading European low-cost airline Ryanair has announced the opening of two months before the scheduled date – September – new flights of the two Ukrainian cities. The decision was made due to considerable demand from Ukrainian clients and guests of the country.
The flights will begin from the airports of Kiev and Lviv to London international airport (London Stansted airport) (five and two flights a week, respectively) in the framework of the extended flight schedules from Ukraine to the winter of 2017, which includes 11 new tracks. This will allow to move this year to 510 thousand passengers through international airports "Borispol" and "Lviv" them. Daniel Galitsky.
Ryanair also began selling tickets for flights that will be performed in September and October, at a price of 24.99 euros (719 UAH). They will be available for booking on the Ryanair website until midnight Monday (April 17).
"The huge demand for our new direction from Ukraine, including the first scheduled flights to the UK, influenced our decision to start operations from September, approximately two months earlier than planned, as part of our work schedule from the Ukraine in the winter of 2017", – said the Manager of sales and marketing Ryanair in Central and Eastern Europe Olga Pavlenko.
As reported, Ryanair has announced its intention in October to launch flights to four destinations from Kiev and seven from the city. According to the company's commercial Director David O'brien from Kiev are launched flights to Eindhoven, London, Manchester and Stockholm. In General, plans 15 flights a week in these areas. From Lviv Ryanair will fly to London, Eindhoven, Berlin and Memmingen, Krakow, Wroclaw, Budapest.
As noted by O'brien, flights from city to Eindhoven, London, Berlin, Budapest and Memmingen will be carried out twice a week in Krakow and Wroclaw or three times a week. Flights from Kiev to Eindhoven and Manchester will be operated three times a week, Stockholm – four, London five times a week. In General, the company intends to transport from Lviv and Kyiv for 250 thousand passengers annually. Ukraine will become the 34th country in the network of the company.
Meanwhile, in early April, Ryanair announced that it plans to launch flights Lviv-Berlin in October 2017, as planned, and in September due to the high demand from Ukrainian consumers.
Comments
comments