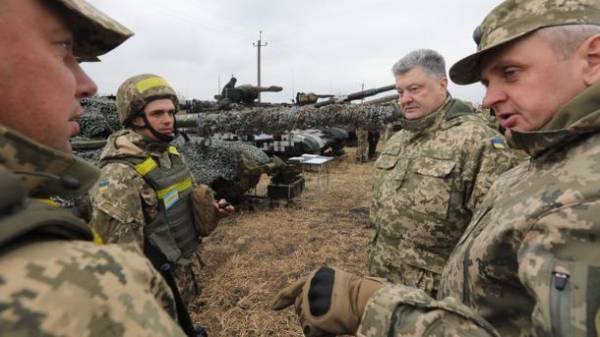 The President of Ukraine Petro Poroshenko visited the soldiers of a tank brigade, which is located in the zone of separation of the parties. About this he wrote on Twitter press Secretary of the President Svyatoslav Tsigalko.
"The President arrived in an armored brigade in the area of branch (arms. – Ed.) in the Luhansk region", – wrote Tsigalko.
President prebuf have a tank brigade in rayon dodanna on Luganschini. pic.twitter.com/TNoXt5cfOo
— Svyatoslav Tsegolko (@STsegolko) 12 APR 2017
The photo shows that the President is accompanied by chief of the General staff Viktor Muzhenko.
Recall that to get the President to the Luhansk region via the Kharkiv where he flew to the Ukrainian military.
Earlier it was reported, Poroshenko ordered on 1 April to increase the payouts to the Ukrainian military, who perform combat missions in the Donbass in the area of the contact.
Comments
comments