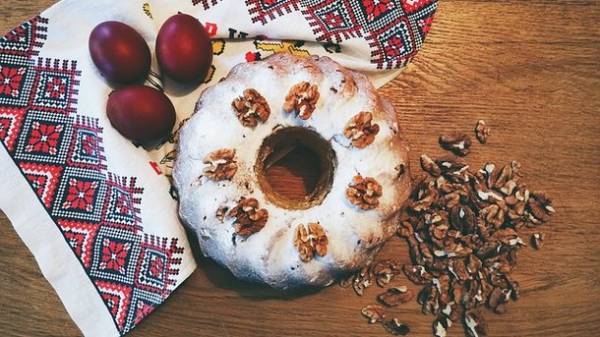 Easter this year falls on April 16, and today celebrate Maundy Thursday – the day from which start preparations for the festive table.
The main attribute of Easter is the Easter cake and Easter cake. The website "Today" has gathered the TOP recipes for festive baking.
Chocolate cake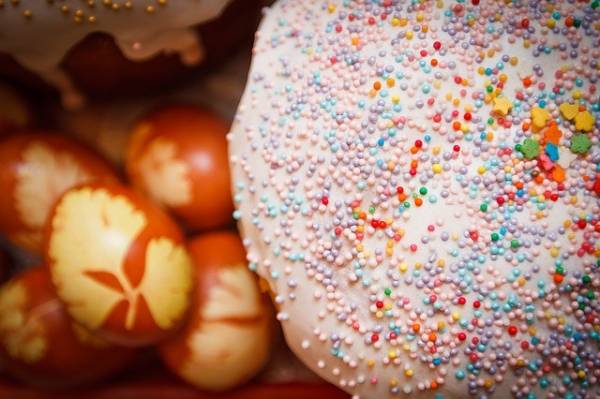 An Easter cake. Photo: pixabay
300 g flour
150 ml of milk
140 g of butter
100 g dark chocolate
100 g sugar
75 g raisins
30 g almonds
7 g of dry yeast
1 egg
1 orange
1 pinch of salt
How to cook:
First, you need to prepare the dough: warm the milk and dissolve yeast in it. Then pour half Cup of sifted flour and mix well, leave for 1 hour warm.
You must remove orange peel and then chop it fine strips and squeeze the juice from the pulp. Then break up the chocolate into small pieces and melt in a water bath. Give hot chocolate to cool slightly.
In the dough sift flour, add sugar and salt, beat the egg, add the chocolate, orange juice and softened butter and knead the dough and leave it for 1H warm.
See also: Maundy Thursday 2017: traditions and rituals of this day
The raisins must first pour boiling water and leave for 10 minutes, then dried, add together with the orange zest in the dough and knead everything thoroughly.
Sprinkle with water silicone form, put into it the dough so that it fills the form is not completely, because the cake will rise, and leave for 20-25min.
Almonds need a bit to prepare, pour boiling water and for 10 minutes write, peel and put on top of cake, put it in a heated to 200 degrees oven and bake until tender. Check the readiness with a wooden stick.
Cottage cheese Pasca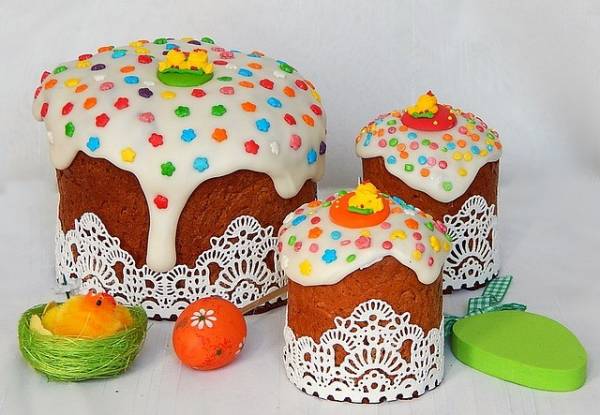 An Easter cake. Photo: pixabay

500 grams of cottage cheese
Half Cup sour cream
100 grams of butter
100 grams of powdered sugar
Nuts, candied fruits, dried fruit – to taste
How to cook:
Cheese, sour cream, butter and sugar must be mixed until a homogeneous mass. The resulting mixture is put in shape for the cakes and cover tightly with gauze. On top you need to put something heavy that will slightly compress the cake.
It is noteworthy that oven a cake is not necessary – enough to keep it in the refrigerator for no less than 12 hours.
Ready cake can be decorated with candied fruit, dried fruit or nuts to your taste.
Cheese cake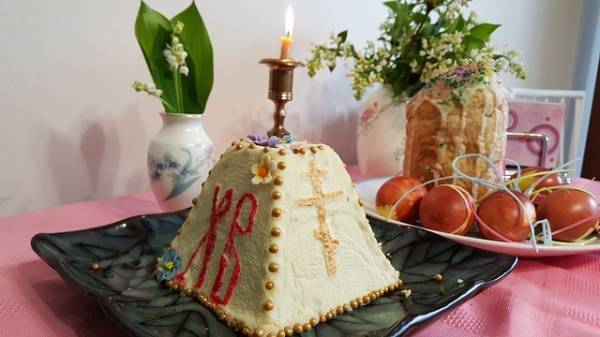 An Easter cake. Photo: pixabay

37 g butter
half Cup sugar
½ Tsp salt
2 pieces of chicken eggs
half Cup of flour
half a glass of milk
187 g of cottage cheese
6 g of dry yeast
7 g vanilla sugar
raisins, candied fruit
How to cook:
First we need to prepare the dough: in warm milk dissolve 1 teaspoon of sugar, yeast, add 1 tbsp flour and mix everything thoroughly. Then the mixture cover with cling film and leave in a warm place for 15 minutes.
For the test you need to whip to form a white mass, 2 eggs, 1 yolk and sugar. In this mass add grated cheese, pour melted butter, add salt and vanilla sugar. Stir it carefully.
You then need to combine the dough and the yeast mixture, add the flour and again mix well.
In greased tins for baking spread the batter. Remember but should not take more than half the shape, because the dough needs to rise. The molds with the dough cover the top with foil and put in warm place to rise.
Then in a preheated 200°C oven put the shapes with approaching the cakes in the oven for 10 minutes, then reduce the temperature to 180°C and bake for another 30-60 minutes.
To test the readiness of cakes, you can use wooden sticks.
Easter cake on kefir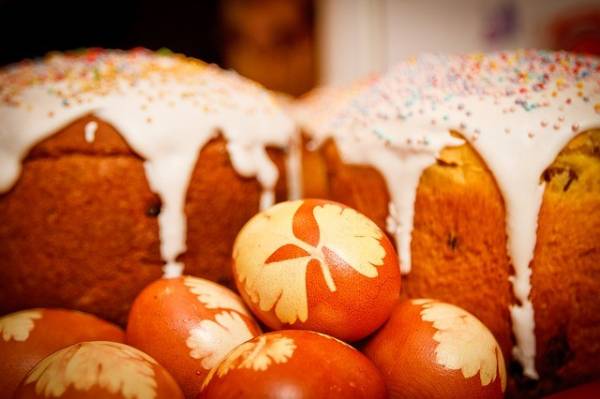 An Easter cake. Photo: pixabay

1 liter of kefir
2 kg of flour
100 g yeast
500 g of margarine
8 eggs
700 g of sugar
Half Cup vegetable oil
500 g raisins
1 Cup. brandy
For the glaze:
3 PCs. vanilla sugar
1 protein
180 g icing sugar
1 tsp Lemon juice
sprinkles
How to cook:
First you need to prepare the dough: in a warm yogurt bred yeast, add 2-3 tbsp of the sifted flour and 2-3 tablespoons of sugar. All the ingredients mix well and leave in a warm place until the dough will not increase.
Then prepare the ingredients: raisins pour hot water and leave for 10 minutes, then dry them out and pour warm brandy and leave it for another 20 min.
Mix the yeast mixture with sugar, vanilla sugar, eggs, melted margarine, vegetable oil and raisins. In the resulting seven add the sifted flour and leave in a warm place for 2 hours to let the dough came.
Bake at 180 degrees until cooked, which depends on the size of the cakes.
To make the glaze need refrigerated protein and lemon juice, which is necessary to whip well, adding in parallel with the sugar.
Ready Easter cakes to grease with glaze and while it is not frozen, sprinkle cakes rainbow sprinkles.
Earlier Today figured out how to assemble the basket on the Easter.
Comments
comments