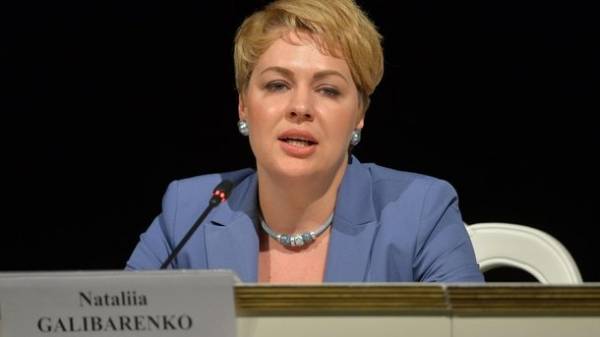 Ambassador of Ukraine Natalia Galibarenko has sent a letter to the leader of the independence party of great Britain P. Nuttall, which expressed strong protest in connection with visit of members of the party temporarily occupied territory of Crimea, reports UNN, citing the press service of the Embassy of Ukraine in the Kingdom of great Britain and Northern Ireland.
"March 19-21, representatives of UKIP N. Susman and R. wood visited in the temporarily occupied Autonomous Republic of Crimea in violation of Ukrainian legislation and participated in a meeting with the so-called "leadership of the Crimea". Despite numerous warnings from the Ukrainian side referred to the representatives of the UKIP defiantly violated the legislation of Ukraine and international law, ignored the official position of the UK, which stands firmly on the protection of sovereignty and territorial integrity of Ukraine", – stated in the message.
It is noted that the Embassy of Ukraine considers the actions of these individuals as a manifestation of the conscious support of Russian aggression against Ukraine, the adoption by them of the Kremlin's policy of infringement of human rights in the occupied Peninsula.
"We once again require all foreign citizens to clearly observe the legislation of Ukraine. The entry of foreigners and persons without citizenship on the territory of Crimea and exit from it are allowed only by special permission of the State migration service of Ukraine through the points of entry and exit, controlled by the Ukrainian authorities. The Embassy of Ukraine has warned that the Ukrainian authorities will respond adequately to any violations of the established order and to bring offenders to justice, including by prohibiting entry into the territory of Ukraine", – summed up in the Embassy.
As coalsales, March 25 a delegation of German politicians and businessmen arrived in the annexed Crimea.
Comments
comments