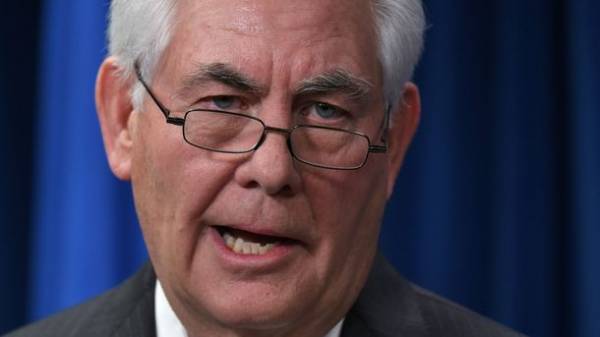 U.S. Secretary of state Rex Tillerson has offered Russia to make a choice: to side with the US and the allied countries on Syria, or to take the side of Iran, Hezbollah and Syrian leader Bashar al-Assad. About it Tillerson said after the G7 meeting in Italy, after which he must go to Moscow, reports the Associated Press, reports "Ukrainian truth".
Tillerson said is still unknown, failed Russia of its obligations on Stripping Syria of chemical weapons, or were simply incompetent in this matter. But, according to him, it is "not of great importance for the victims."
"We can't let this happen again. We want to alleviate the suffering of the Syrian people. Russia could become a part of the future and an important role to play, " he said.
He added that "Russia can maintain your Union with this group, which we believe will not serve the interests of Russia in the long term."
Tillerson stressed that the US sees no role for Assad in the future Syria, given that he's lost legitimacy.
"For all of us it is clear that the rule of the family of Assad is coming to an end. But the question is how it will end, and the transition itself can be very important from our point of view of stability in a unified Syria," added Tillerson.
Earlier, Rex Tillerson said that Washington will not allow repeated use of chemical weapons in Syria.
Comments
comments