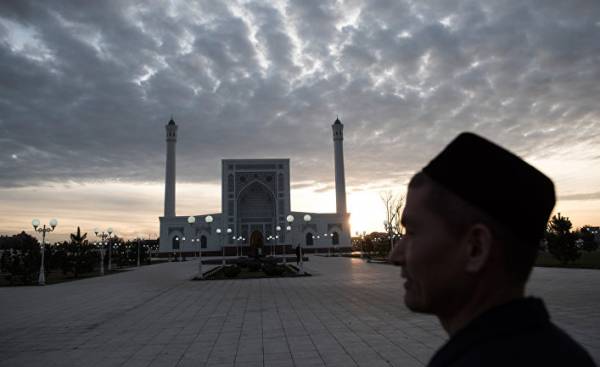 The terrorist attacks in Istanbul, St. Petersburg and Stockholm have at least one thing in common.
In all cases, the criminals seem to Uzbek origin.
The question is why.
The same as it was in Western Europe, many Islamic militants from Central Asian countries were mobilized and went to fight for Islamic state (a terrorist organization banned in Russia — approx. lane) in Syria and Iraq.
In Uzbekistan, Kyrgyzstan and Tajikistan, there are terrorist movements that aim to introduce Sharia law and make an Islamic state on its territory. Often they arose in protest against harsh and repressive regimes that reigned there after these countries gaining independence with the collapse of the Soviet Union in 1991.
These countries are United by deep poverty, unemployment and poor prospects for young people. Many try to go abroad in search of work and hope for a future. Often go to Russia, because in Soviet times Russian language was common to all.
In Russia, as well as in other countries, they are often low-paid workers low-skilled in the construction or service staff in the café.
This was the case with the 22-year-old Uzbek, who, according to Russia, staged a terrorist attack in the subway last week. He came from Kyrgyzstan, where a large Uzbek minority, and has worked in Russia for several years. According to Russian media, in 2014, he traveled to Syria to fight for ISIS.
Shot 39 people
The attack on New year happened in Istanbul, staged a 34-year-old Uzbek is probably the last training in Afghanistan. He shot 39 people in the nightclub Reina, but I had to make the attack in Taksim square in the city centre. He changed the goal because of too harsh security measures. According to Turkey, almost a year before the attack he illegally entered the country through Syria.
Three criminals who staged the attack at the airport of Ataturk in Istanbul in June 2016, was also from Central Asia. One from Russia, another from Uzbekistan, the third — Russians with ties to Chechnya.
The history of terrorism in Central Asia is rooted in the chaos that began in Afghanistan when the Soviet Union was forced to leave the war and retreat, tail between his legs. In the Soviet Union, the Muslims could not openly profess their religion. Independence coupled with the success of the Islamists in Afghanistan have led to the emergence of a number of jihadist movements, which gradually began to operate, for example, the Taliban (a terrorist organization banned in Russia — approx. TRANS.) that has ruled Afghanistan since 1996 and gave shelter to the terrorist group "al-Qaeda" (banned in Russia — approx. TRANS.) and its leader Osama bin Laden (Usama bin Ladin).
In training camps "al-Qaeda" came the recruits, including those from Uzbekistan, Kyrgyzstan and Tajikistan. After that, they fought in different conflict regions governed by the Islamist groups, for example, in the Russian Republic of Chechnya, Pakistan and Syria.
In Uzbekistan, the most active group is the "Islamic movement of Uzbekistan," GO (a terrorist organization banned in Russia — approx. TRANS.), which also operates in Tajikistan. Before they were a branch of "al-Qaeda", but then swore allegiance to ISIS. Their goal is to create a unified Islamic state across Central Asia.
In Syria there are several militia groups under the leadership of Uzbeks who are fighting on the side of "al-Qaeda" or LIH. Details vary, but it is estimated that only the war in Syria three thousand Islamists from Central Asia.
The prerequisites are not yet clear
How this scheme fits into the 39-year-old suspect, we don't know. But there is no doubt that Central Asia plays an important role as a provider of violence of extremist volunteers.
Also, there is no doubt that jihadists communicate with each other across borders. They meet in training camps or on the battlefield. When they return, create a network of terrorist cells that support a connection between them.
It is no coincidence, for example, a Swedish citizen was involved in the attack in Brussels.
The problem is that the police security is very difficult to penetrate these terrorist networks and to open the contacts and connections before the attack happens.
Comments
comments