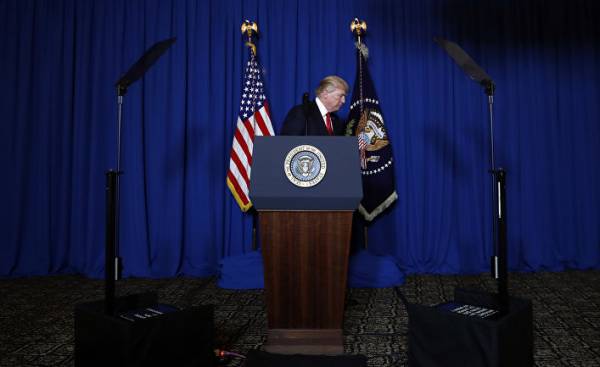 The worsening situation in Syria could turn to Russia with new sanctions. New package of restrictive measures may relate to oil and gas, but a serious blow to the economy of the new sanctions will not cause, experts believe.
The question of sanctions on Monday to discuss, in particular, the foreign Ministers of the "Big seven". As written earlier, the British press, the foreign Minister of Britain, Boris Johnson demands that Western countries agreed to the "extraordinary sanctions" in response to a chemical attack in Northern Syria, which killed about 90 people. This issue will be discussed at the meeting "Big seven", which opens in Italy.
On Monday, the representative of the Prime Minister Theresa may confirmed that London is discussing with partners measures of pressure on Damascus and its allies, including Russia. In addition, the U.S. permanent representative to the UN, Nikki Haley said that Donald trump has also been discussing with members of the administration the possibility of introducing sanctions against Russia and Iran for supporting Syria.
Thus a press-the Secretary of the President of Russia Dmitry Peskov said that the Kremlin did not know about the possibility of imposing new sanctions as statements from Donald trump on this occasion was not. "Not knowing what was going on — and we don't really know what was going on — it is difficult to speak about any reaction," he said.
Russian service Bi-bi-si talked to the experts about what sanctions Russia could turn into a new aggravation of the situation in Syria.
Andrei Movchan, Director of the Economic policy program of the Carnegie Moscow center
I have a fairly strong belief that the process of imposing sanctions on Russia are designed not to affect two things: the profits of European and American companies on the one hand, and not create situations that threaten Russia's economic condition. Because the West is afraid of the destabilization of the situation in Russia and in all subsequent effects. The last thing they want to Syria, with only 145 million people and close to Europe — with nuclear weapons.
I would have thought that any tightening of sanctions would be decorative. Maybe personal sanctions against any other five people will enter. Serious sanctions, I would not expect.
But it is subjective, given that the authorities in the United States and Britain have other people — not those who have imposed sanctions initially. The probability of anything is not excluded.
Do we say "European Union", but there is a lot of different countries, and the UK is in the position of the outgoing member of the European Union. Therefore, the assumption that Britain would be able to convince to accept restrictions on the purchase of Russian oil and gas, it seems to me incredible.
Alexei Devyatov, chief economist of "URALSIB"
Imagination can be limitless. But, if we talk about sectors, for Russia the most sensitive to be sanctions in the oil and gas sector. But I fear that such sanctions Western countries will not go, because Russia is dependent on oil and gas supplies abroad, and the West depend on these supplies. And replace them they can't.
It is theoretically possible to impose foreign trade restrictions, but there are WTO rules, and Russia is a WTO member. This restriction allows you to arbitrarily impose sanctions in certain areas because it is difficult to find a situation where such sanctions would not violate WTO rules.
Likely to be for the strengthening of technological sanctions that are already in place.
The financial sanctions which were imposed before, is not terrible they fulfilled his role. Initially, the sanctions coincided with a sharp drop in oil prices, making it difficult to assess their effectiveness. In my opinion, the effect was not so disastrous.
The main role played by oil prices. Although, of course, we saw that in the last quarter of 2014, capital outflows increased sharply. Now we have learned how to circumvent the sanctions, as evidenced by the dynamics of external debt and capital flight.
Vladimir olenchenko, senior research fellow, Centre for European studies, IMEMO ran
I think the first question that should arise if Johnson is on their own initiative or reflects the General mood?
If sanctions are imposed Britain, it would have started from bilateral relations with Russia. Now, when we are talking about a possible collective sanctions, we should proceed from the overall relations between the West and Russia.
Collective sanctions will probably be General in nature. The main thing you need to watch G7 — how effective the previous sanction that they gave to Western countries.
These countries must remember that relations with Russia is a fundamental factor of international stability. Tightening relations with Russia, the West destabilizie and international situation. And it affects international trade on production.
The resource that was originally hoped the Western countries imposing sanctions against Russia, already exhausted. Were sectoral sanctions and penalties against individuals. Perhaps Mr. Johnson can offer to expand sanctions against individuals, but it is unproductive.
If we talk about the oil sector, Russia is (as rightly write the rating agencies) have adapted to all sanctions. Moreover, transitions to economic growth.
Pavel Danilin, General Director of "Center of political analysis"
Russian officials, as such limit is already quite problematic. The range of people who is tied to the Crimea, already under sanctions goes. This creates inconvenience, including for the Europeans and Americans. I think that some companies in the defense sector may also be included in the sanctions list.
Perhaps further measures would be taken to curb our energy sector. Let me remind you that the main problem was in selling the latest equipment our energy companies. It was detained for 10 years our development of the Arctic.
Sanctions, of course, interfere with our financial and energy sector, creating some inconvenience for ordinary citizens, but, in General, the biggest shock we have experienced. Now, for some sectors, we see them as good for the country.
With regard to the actions of the "big seven", instead of doing nonsense, stupid sanctions, they should engage in order to turn back into the "big eight". Obviously, being a "big seven", she is simply unable to solve 90% of performed tasks — gradually the role of the organization is degraded to zero.
Comments
comments