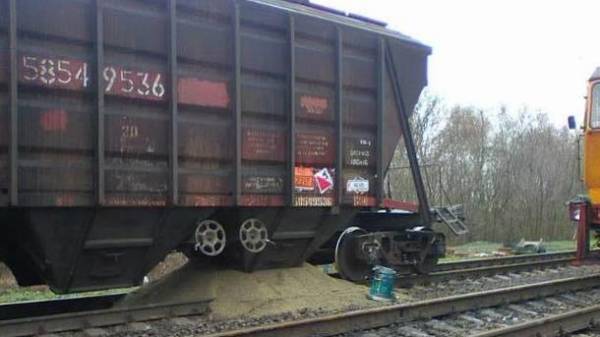 In the accident on the railway between the station Volnovaha and Karan, when he came down with rail 4 grain, PJSC "MMK im. Ilyich" is guaranteed to lose in the production of 11 thousand tons of iron, which is about 4 million dollarov in the export of metal products). This was reported by General Director of JSC "MMK im. Of Mariupol" Yuriy Zinchenko.
In fact, the cost of such accidents, manufacturers have to include in the cost of production. In this regard, a possible increase of tariffs for cargo transportation of "Ukrzaliznytsya" is a serious threat to the export potential of Ukraine.
"Another "surprise" from "Ukrzaliznytsya" on the way to Mariupol between stations Volnovaha and Karan went off the rails 4 grain, one of which overturned. Restoration work started for the work of the crane disassembled about 500 m of a contact network, traffic to/from Mariupol stopped. Briefly about our losses from this "surprise" as of the moment: minus 3 route with raw materials through the Cane-the Dawn April 8, minus 8 today, ie, we are already guaranteed to lose in the production of 11 thousand tons of iron (or about $ 4 million in exports of metal). Our suppliers of iron ore in Krivoy Rog stopped loading, they are unlikely to catch up, at the moment, minus 8 routes. This is the question about the real cost of services "Ukrzaliznytsi" for business", – Zinchenko wrote on his page in Facebook.
Also, according to Zinchenko, the promised 22 freight trains a day through the Cane-the Dawn of the company never saw.
Comments
comments