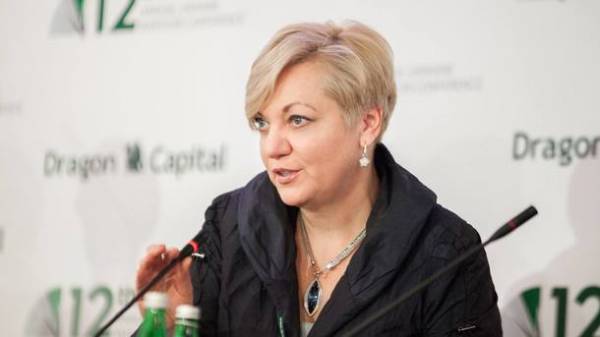 Ukrainian banks significantly reduced the debt to the NBU for refinancing loans. This was stated by the head of the NBU Valeria Gontareva at a press conference on her resignation.
"Today the figure in solvent banks is 15.2 billion UAH, of which 14.4 billion UAH – the state PrivatBank and 0.5 billion to Ukrgasbank. The total debt of the insolvent banks before the national Bank now stands at 45.2 billion UAH. The rest is extinguished," – said Gontareva.
List of insolvent banks, the largest debtors on refinancing loans and the names of their former owners:
The Bank "Nadra", – Dmitry Firtash – 9,8 billion UAH;
Oleg bakhmatyuk – loans his two banks, "Financial initiative" and "VAB Bank" – more than 10 billion UAH;
Nikolay Lagun, "Delta-Bank" – UAH 8 bn;
Konstantin Zhevago's "Finance and Credit" – 6,3 billion UAH;
Leonid Klimov "IMEX Bank" – UAH 3.4 billion.
"That my team has stopped the activities of the banks that carried out illegal operations, including withdrawal of refinancing over the border of Ukraine. We have stopped the activities of banks that continued illegal operations, including illegal withdrawal of money outside Ukraine", – said Gontareva.
We will remind, today, April 10, Gontareva has officially announced his resignation. The statement of Gontareva must be signed by the President of Ukraine Petro Poroshenko, after which it will be considered by the Verkhovna Rada.
Resign Gontareva is may 10, notifying, according to the rules for a month. However, if the Verkhovna Rada voted for the dismissal of the NBU Governor earlier, Gontareva leaves post according to the decision of Parliament.
At the same time, according to the head of the NBU, other changes in the composition of the Board of the National Bank will not happen.
"Also there is no change in the policy of the Central Bank. A floating exchange rate, inflation targeting, modern Central Bank – all those things that my team and I struggled for so long, remains unchanged. … The national Bank will continue consistent implementation of the policy that you have seen throughout my presidency," – said Gontareva.
Comments
comments