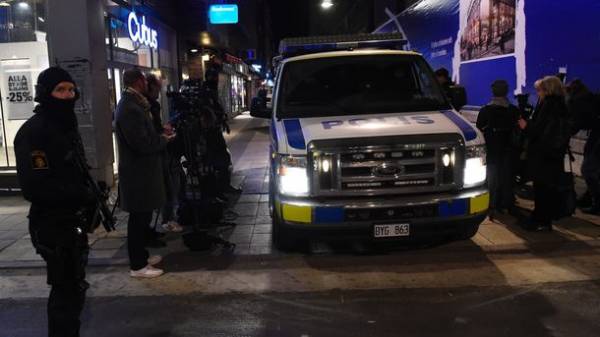 One detainee in fact the terrorist attack in Stockholm has given grateful evidences. It is reported by the Aftonbladet newspaper, the TV channel "112 Ukraine".
The publication, citing unnamed sources reported that Swedish police in the North of Stockholm have detained a man. During interrogation he admitted to committing hitting people in the town centre.
According to journalists who refer to unnamed informed sources, the detained men have minor injuries, but his life is not in danger. It is reported that during the interrogation the suspect has already claimed responsibility for the attack. However, the motives of the offender is not reported.
The publication notes that the suspect was arrested in the Stockholm suburb of Marsta. It was allegedly found the mask, and on his clothes discovered shards of glass. The police also explained that the detainee is like a man with photos of the offender, which was previously distributed by law enforcement agencies.
As reported, in Stockholm this afternoon a truck drove into a crowd of people have died. According to local media reports and Twitter users, many people have suffered.
According to the representative of local police Tuva, Hagga, as a result of arrival of the truck at the crowd of people there are victims. The incident occurred on a pedestrian street this afternoon.
As a result of arrival of the truck at the crowd of people in Central Stockholm four people were killed and 15 wounded.
Comments
comments