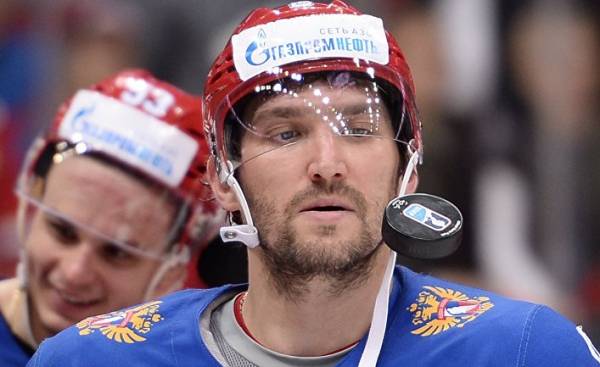 Let's imagine a fictional American star athlete, who was forced to fly across the ocean to play in the best League in the world. Let's imagine that this is the player of the Premier League, a guy named, say, Owen Valor (Valor Owen). Let's imagine that throughout his career he talked about his two dreams — of winning the Premier League club Thwistsockel FC, and about the title for team stars and stripes (Club Thwistsockel could not qualify to participate in the Champions League. You can continue this list with me).
And now, let's say, some Very Important People in Suits start to talk about this and that — who will probably pay for insurance for their hidden eggs, and will they make a bath filled with dollars or euros. As a result of all these considerations was that the Premier League will not rearrange his schedule for the world championship. Now imagine that this Owen Valor — or O. V. says: fuck you all to hell, I will play at the world Cup, because I promised to do it in your country.
I can imagine that we would call him a true patriot. I can imagine that we would call him an American dreamer. I can imagine that we would call him rebellious Iconoclast, stubborn and even a little crazy, but also loyal to its principles.
So is it possible to say that Alex Ovechkin is behaving selfishly this week, when it repeats the same thing he said a month ago and a year ago, and said every time he was asked about the Olympics: you go to hell with all their costumes, and all of you in the NHL and the IOC, and I will speak for my country in 2018? In my opinion, we are talking about something completely opposite.
His refusal to retreat from his position even now, when the NHL closed the doors to participate in the Games in Pyeongchang, you may deliver it to the far end of the list of NHL players, many of whom were more reserved in his disappointment. But there is a definite sequence. This guy throughout his career, refuses to distinguish between a Stanley Cup and a gold medal, calling them equally important goals. He always wore a sweater of the Russian national team, although his criticism is closely tied Ovechkin with international disappointments of Russia, believing that they are caused by postseason problems club "Washington." But it's not.
"International comparison may not be fair, in my opinion, because you look at those teams who knocks out team Canada and compare with those teams that knocks Russia — said in a conversation with me, the General Manager of the team "Washington," Bryan McLellan (Brian MacLellan). It's not fair to Ovi… Include Crosby in the Russian team and see what happens. It will be the same result — they lose because they just have no one".
Nevertheless, Ovechkin continues to be deliberately deprived of the tooth face of participation of athletes in the Olympic games, even if it will make him the target of widespread critique. (Commentator ESPN John Buccigross (John Buccigross) has removed the charge of "selfishness", and he did it on Twitter this week, whereas my friend Tom Loverro (Thom Loverro) wrote: "will must be exerted significant pressure here in Washington, in order to (Ovechkin) did not get a vacation of nearly three weeks in the height of the season and could not play hockey somewhere in other place for some other viewers").
This is reminiscent of the annual moaning in the moment when Ovechkin is leaving the city after the departure of "Washington" from the tournament and immediately sent for the world championship. "What devotion," he would say we are about the American athlete, who rapidly returns home in order to help the needy in this national team. Instead, Ovechkin's critics ask: "why he doesn't care about his employer?"
Perhaps it would be simplistic to assume that Ovechkin makes a choice in favor of the principle, not payroll. We do not exactly know about the pressures exerted on him at home — he is the son of Olympic heroine who talks with Vladimir Putin; he once flew on a plane halfway around the world in just a few days before the start of their season, and this was done only in order to help carry the Olympic torch. Suffice it to say that all this talk about Ovechkin at the Olympics cannot be compared with the refusal of Bryce Harper (Bryce Harper) from participation in the international tournament on baseball "World baseball classic" (World Baseball Classic) or by decision Dustin Johnson (Dustin Johnson) not to go to the Olympic Golf course in Brazil. This is a more serious thing.
Probably no need for hand-wringing; the NHL is probably bluffing — according to Ovechkin, or his country may let him off the hook and will not be included in the team none of the players in the NHL, if the League will not change its position. But if judgment day did come, and one of the brightest stars in the middle of the season will fly for a few weeks, then Ovechkin is not the only one who I'd like to seriously think about it and make your choice.
Fans of the capital team needs to decide how to treat this, and whether to support naughty Olympic movement, led by its captain. Here's my prediction: most people will agree that Ovechkin gives Washington more than Washington gives Ovechkin, and they realize that he was at the center of someone else's financial struggles and will support his decision with varying degrees of enthusiasm (Especially if it would fill several vacant positions in your summary in June).
And then there is his owner. Ted Leonsis (Ted Leonsis) is as consistent as Ovechkin. He speaks of their enduring partnership, about his respect for Ovechkin and his family, about how Ovechkin sincerely thanked him after the disappointment in 2010 in Vancouver. Leonsis, once called Ovechkin "the Evangelist and representative of the" Olympic Games in Sochi and promised that he will allow him to participate in the Games even if the NHL decides not to release their players.
"It is very important for him and his family, said Leonsis in 2013, thus realizing the danger posed by such a position for his international team. "Who am I to prevent him to realize his dream?" The debate in 2018 resumed, however, the address of the owner of the club has not changed.
If Alex Ovechkin said: "For me, in fact, it is important to go there, it's important to represent my country and play for it," I support him, he said in an interview with Sports Illustrated last fall. — What can happen in worst case? Will be fined? I hope that this will not come".
Maybe they both just tiptoeing around influential structures: Leonsis with the most important player in the history of their franchise, and Ovechkin with his complicated homeland. But none of them never wavered, at least in its open position.
"This is the main opportunity in life to participate in the Olympic games, — said Ovechkin this week. — If someone will tell me that it is not necessary to go, for all I care. I'll just go."
"I should bring back my captain said Leones in an interview with Sports Illustrated in October of last year. And I'll do it."
There are a lot of different agendas. The owners are fighting to keep their financial investments (and their home gate). Olympic bosses are fighting to maintain their accounts for payment of current expenses. Fans (and media) want to get the full enjoyment of the Olympic hockey tournament without any consequences. In this dramatic performance you will find a large number of disinterested actors.
Comments
comments