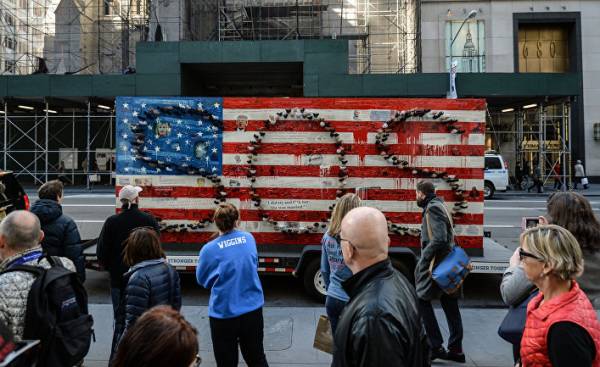 Every Tuesday at new York's Columbia University is going to a Russian club Dmitry Dubrovsky. Professor of human rights and democracy was deprived of his right to teach in his hometown of St. Petersburg in 2015. Since that time, he was studying in the U.S. topic Hatespeech — language of hatred and compares the propaganda tools of the Soviet Union during the cold war with today. Vladimir Putin and Donald trump both are willing to use a very specific method: Dubrovsky call it Whataboutism.
"Whataboutism describes the method, don't answer, but instead to ask: what's wrong with you? Then two completely different essence boil down to the relationship with nothing in common with each other. The Ukrainians say a little absurd the story: two neighbors come to court. One accuses the other that she took the jug and returned it cracked. The second explains the judge: first, I didn't borrow any pitcher, and second, the pitcher I received was already cracked. And thirdly, I returned it intact. When it comes to the annexation of the Crimea, the Russian side is not going to engage in a discussion in fact, and immediately asks what the Americans are doing in Afghanistan, in Iraq or in Kosovo".
The cooperation of the populists
In a similar way received the US President Donald trump, when he had to speak about whether Putin is a murderer. Trump said, we also have a lot of killers. The special relationship between trump and Putin academician in exile, examines how the cooperation of the populists. However, he finds between the two large differences.
"Putin has a position, even very hard, because he sees himself in opposition to the West, as during the cold war in Soviet times. Trump we are not talking about foreign policy, in which he little understands. For trump it is a rhetorical method of the reaction, if he can't answer."
Moscow, they say, are particularly sensitive when it comes to violation of human rights:
"Who accuses Russia that it violates human rights or international law, to immediately declare that he does not recognize that Russia is a superpower."
As for the superpower, there are other rules. The fact that trump cancels the rules, he has repeatedly proved his instructions. For Vlad Burlutskaya, which is involved in the discussions of the Russian club, President of the United States has taken thus, perhaps, life-threatening decision. His judgment about trump and his intention to establish with Russia a special relationship, he says four words:
"He is an idiot" — he's an idiot.
Threats and sanctions
A sharp reaction Burlutskaya better understand those who knows his story. Three years ago, he has requested political asylum in the United States, now his status is in danger. 43-year-old lawyer was engaged in Russia, the case of Sergei Magnitsky, who died in 2009 in a Moscow prison. Magnitsky was charged with heavy accusations of corruption of senior Russian officials. Russian justice immediately accused of Sergei Magnitsky in the theft and arrested him. The US reacted to the death of Magnitsky in custody with the adoption of the so-called "Magnitsky list" and the strengthening of sanctions. Russia responded with a ban on adoptions of Russian children by American couples. At the time Burlutskiy helped to gather evidence of shady deals by the Russian authorities that has become dangerous.
"I started receiving threats, and my daughter, who suffers from diabetes, has warned that it will no longer discharge insulin which in Russia can only be obtained under strict control. It was very serious. Prior to joining trump to power I was happy here, even very good. Because of trump's decree regarding the entry of foreigners, the court has deferred my application for a green card — Greencard. Instead, to speed things up, it was stalled."
Vlad Burlutsky fears that the tramp would weaken the sanctions against Russia. It would be in the interests of Putin, so he supported that candidate in the election campaign. Burlutskiy not seen his daughter for four years. He believes trump's threat and hopes that his presidency will be short-lived, now it does not support neither the secret service nor the wall street.
"I left Russia, and now are faced here with the same shit? If I knew that, I'd rather go to Canada or England. But we're not giving up, trump will be removed from his post".
Special relations are hard to imagine
33-year-old Tanya doesn't want to give his name, as well as in Russia, where she came from. Out of fear or paranoia? She doesn't know it, just the thought of closer ties between Washington and Moscow makes her nervous. "On the one hand, a good relationship would be great, but my first thought was that Russia needs to do some changes. With these bad things that happen to the dissidents — murder, oppression — it is hard to imagine such a special relationship. We would like to have something similar with North Korea? No."
In the Tannoy family of all avoid any political discussions, because otherwise they will only quarrel. The fact that many of their relatives voted for trump for political analyst Dmitry Dubrovsky was expected, because it behaved the majority of Soviet immigrants.
"The majority of Russian immigrants are very conservative. The greatest number of Russians arrived during the presidency of Ronald Reagan (Ronald Reagan), which was the Golden age to which you would like to return a trump."
Comments
comments