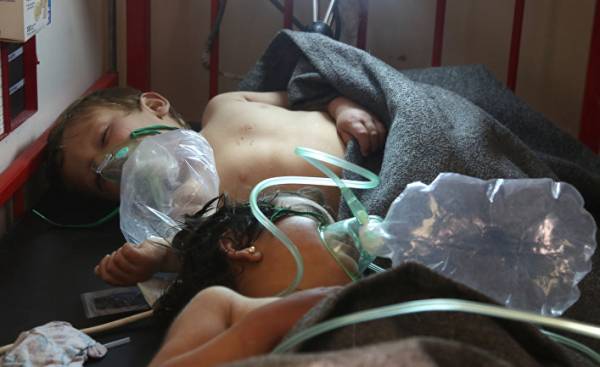 Recently in social networks, a hashtag #khimicheskiye or #himicheskie in English and Arabic. The obvious historical parallel with Chemical Ali — Ali Hassan Abd al-Majid al-Tikriti, a cousin of Saddam Hussein, who by order of the last from 1987 to 1988 he carried out the operation "Anfal", aimed at the destruction of the Kurdish population of Iraq with chemical weapons. Thanks to the many users of social networks in the Arab world and the West, acting against the Assad regime, this hashtag is rapidly gaining popularity.
@housetrotter: Chemical democratically elected Assad invites Putin to help his people
Kozba @AhmadKozba: Egypt had Chemical Nasser in Yemen to Chemical Assad. We love chemical presidents
Ali Rıza Karakan ?? @arkarakan: Killers of the Syrian people
KILLERS OF THE #SYRIAN PEOPLE..#StopChemicalAssad#Idlib#KimyasalEsed #ChemicalAssad pic.twitter.com/lMk9vjy3hU
— Ali Rıza Karakan?? (@arkarakan) 5 APR 2017
​
Safe Zone @omen_syria: Not Bashar crossed a red line Putin did it
سعد التويم @altuwaim_s: Never forget that America, the West and Iran invaded Iraq and executed Saddam and his aides, accusing them of using chemical weapons, and then helped to stay in power, Bashar using the same weapons.
أ.د. خالد ال جلبان @K_S_Algelban: Chemical Assad proved to us that the red lines in politics — it's just a pencil drawing.
Human Rights Watch @hrw: interactive map showing dates and locations of chemical attacks by the Syrian government in recent days
The Interactive map shows dates & locations of chemical attacks by Syrian government on #Aleppo in the last days of siege https://t.co/mTATFGzcwu pic.twitter.com/LS1gX4nJYz
— Human Rights Watch (@hrw) February 13, 2017
​
أنور مالك @anwarmalek: Thug Bashar has now earned the privilege to be called Chemical Bashar and now everyone should support this name, to punish him for his crimes
Jerry [email protected]: Chemical Assad kills his people from all kinds of banned chemical weapons, to give way to Iran to use the same weapons took Syria?
Mohyeedine @mohyeedine: America and other staged many wars on suspicion of terrorism, and a terrorist Chemical Bashar every day continues to commit hundreds of murders
س الصراع في الشام @asseraaalsham: If America really wants to eradicate terrorism, let's throw "chemical Assad" and we will see how the terrorism has ended and the Syrian people will get freedom, dignity and justice
Ahmad Issaoui @IssaouiAhmad: Halabja, which was bombed by Chemical Ali on the orders of Saddam Hussein in 1988, yesterday, in solidarity with Khan Sheyhun due to bombardment by the Assad Chemical
#حلبجة التي قصفها #علي_الكيماوي بأوامر صدام حسين من سنة بالغازات السامة ١٩٨٨،مع تتضامن #خان_شيخون التي قصفها #بشار_الكيماوي يوم أمس بالسارين pic.twitter.com/nfmuDTVm4C
— Ahmad Issaoui (@IssaouiAhmad) 5 APR 2017
​
عباس الضالعي @abbasaldhaleai: America causes limited strikes against the Assad regime that continues the tragedy of the Syrian people, and tell the world America is not trump's Obama's America #Himicheskie
خـطــر إيــران @Iran_safao_i: Chemical Bashar more than 5 years using chemical weapons, and the Arab States support it, and the West condemns spectators and supporters
محمد مصطفى علوش @Mohammed_Aloush: present position those who are called friends of the Syrian people
حقيقة موقف من يسمى بأصدقاء تجاه الشعب السوري#مجزرة_الكيماوي التي ارتكبتها #روسيا #إيران #بشار_الكيماوي#خان_شيخون#إدلب#syria#Russia#UN pic.twitter.com/C5gubXZNKd
— محمد مصطفى علوش (@Mohammed_Aloush) 5 APR 2017
​ 
Comments
comments