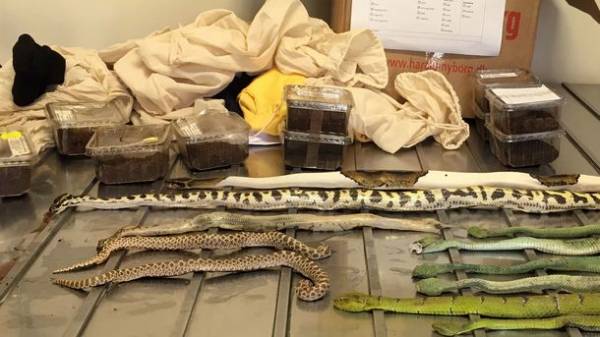 Australian customs found among sent into the country from abroad mail the parcel, in which were snakes and spiders, including poisonous.
The parcel arrived from one of the countries of Northern Europe, and its content has been officially declared as the "two pairs of shoes," according to Mashable.
See also: In Rome exploded a letter bomb
This shipment was discovered only after the box was subjected to radiographic inspection using x-ray machine. Among those in the parcel of reptiles were five poisonous snakes, three pythons, two svinonosogo snakes, nine and three tarantula Scorpion. Some of the reptiles were already dead.
All these creatures are regarded in Australia as a source of high biological hazard, because they can be carriers of foreign pests and diseases. In this regard, the surviving reptiles also have to be destroyed.
The names of the senders and receivers of parcels by the authorities were not disclosed.
Earlier it was reported that the Greek Embassy parcel arrived with the bomb.
Comments
comments