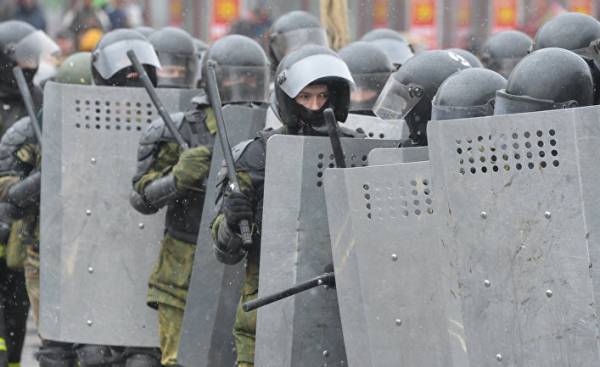 Alexander Lukashenko used to be called the last dictator of Europe. It continues to be a dictator, but today he is not alone. But even in this case, the President of Belarus stands out among the others with its clever use of authoritarian survival — today it weakens repression, and applies them tomorrow, today he kowtowed to the Russian President, Vladimir Putin, and tomorrow fawned European Union.
In recent weeks, his tactical balancing act, help him stay in power for much more than two decades, is once again risky. As in neighboring Russia, people in Belarus seem to have already tired of decline and stagnation, especially in a state that has never pursued reforms with the aim of entering of Soviet socialism. A series of small protests on 25 and 26 March grew into a larger speech, and the President and his security forces have responded with hundreds of arrests, and this is the most serious suppression of such shares over the last seven years. The arrests threaten to ruin the recent warming in relations between Mr. Lukashenko and the European Union, as well as make thrill of Mr. Putin supporting Belarus through economic benefits, but not experiencing pleasure in the moment when the group composed more than two people holding a banner in a public place.
In February Belarusian authorities have announced that they will begin to apply adopted in 2015, the decree on the basis of which a fine of $ 250 will be imposed on those people who have worked for less than 183 days a year. This return to the old Soviet accusations against parasites and idlers. These rules were formulated in such a way that non-staff personnel, Housewives, artists and other people who are not formally registered as unemployed, will be forced to pay large fines as "social parasites" and will be taxed. In the capital of Belarus Minsk the first major protests took place on 17 February, and then they participated from 2 thousand to 3 thousand people. In the following weeks the demonstrations began to participate more and more people. They chanted the slogan "I'm not a social parasite," which in the earlier protests were noted. These demonstrations were peaceful and, in General, the police did not interfere with their conduct. On 9 March, the Belarusian President announced that he suspend his decree until 2018, and the protesters can protest, while the "instigators" of the demonstrations "will pick out, like a raisin from a roll". Mr. Lukashenko controls the security services, which were held in March, a number of arrests of opposition politicians, activists, bloggers and journalists. Then at the end of last week held large protests in Minsk, which caused in response to the harsh actions of the police, which arrested hundreds of people on the streets.
Such repression is quite consistent with long track record g-on Lukashenko, svidetelstvuet about his intolerant attitude to democracy and dissent. Last year the European Union took imposed against Belarus sanctions, but no one should be under any illusions that Mr. Lukashenka can become a Democrat. While he is in power, Belarus will be in a kind of dead zone. The recent spate of protests may be a sign that the society is tired of this prison and not be silent.
Comments
comments