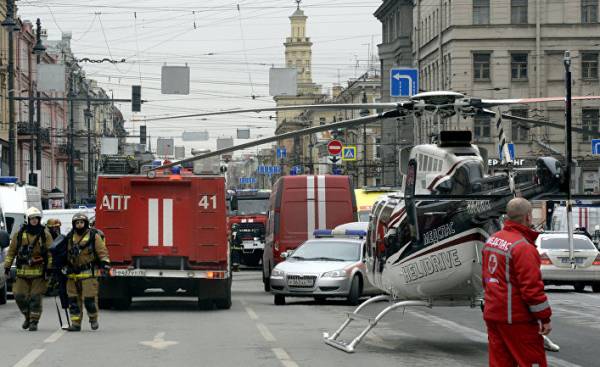 In Saint Petersburg there was an explosion in the subway train. Ten people were killed. 47 in hospitals. Another improvised explosive device defused at the station.
The BBC Russian service has compiled all that is known about the explosion as at 17:30 on 3 April. Tuned situation you can monitor using our online broadcasting.
The time and place where the explosion occurred?
According to the Investigative Committee, the explosion happened at 14:40. He took the train, which pulled away from the station "Sennaya Ploschad". Despite the state of emergency, the composition reached to the station "Institute of Technology", where the operation began. In it, according to city officials, was attended by more than 40 ambulances.
Also at the metro station "Revolt Area" it was found a second explosive device improvised. It neutralized, said the national antiterrorist Committee (NAC).
The information that the explosions occurred at several metro stations was not confirmed.
What exploded?
NAC reports that the train detonated an improvised explosive device. On not confirmed while to data, the explosive device was left in the train carriage in the portfolio. The sources of Russian news agencies say that the train might have worked two explosive devices.
Who blew up?
The official representative of the Prosecutor General Aleksandr Kurennoy in the broadcast channel "Russia 24" has described the explosion in the subway of St. Petersburg as a terrorist attack. But then he told Interfax that to draw conclusions about the cause of the explosion prematurely.
The alleged organizer of the explosion caught on a surveillance camera, Interfax reported a source familiar with the situation. "The metro camera captured the alleged organizer of the explosion," — said the Agency interlocutor.
How many people died and suffered?
According to the latest data, the blast killed ten people. More than 20 people were injured, more than 20 are affected. These are the findings of the National antiterrorist Committee and the administration of St. Petersburg.
What is the situation in the city?
The metro of St. Petersburg is fully closed at the airport "Pulkovo" has imposed special security measures. Ground transportation to and from the end of the day works for free, as well as some of the taxi service. Running duplicate bus routes. According to "Yandex", at 17:45 in city traffic jams were 9 points.
What was the reaction of the authorities?
The President of Russia Vladimir Putin at the time of the explosion was in the suburbs of Saint-Petersburg Strelna on the media forum of the popular front. Then he also met with President of Belarus Alexander Lukashenko. Putin said that examines all possible causes of the explosion, including a terrorist attack. He said that he already received reports from the heads of the security services. The President also expressed his condolences to the relatives of the victims.
At the terrorist attack left the Governor of St. Petersburg Georgy Poltavchenko. He works in the operational headquarters, which was deployed at the blast site.
Comments
comments