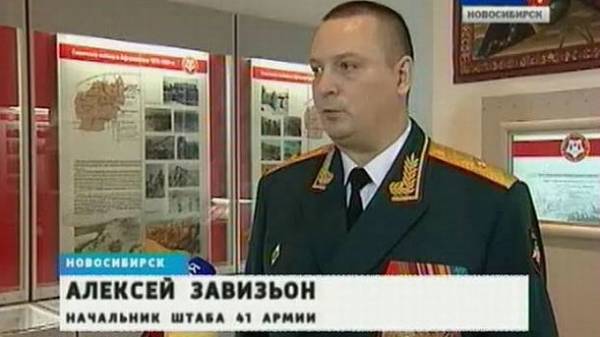 The chief military Prosecutor of Ukraine reported about suspicion in Commission of crimes to the commander of the 41st army of the Central military district of the Russian Federation the General-major Alexey Savision.
Reports a press about it-service of Prosecutor's office.
According to the report, he is suspected of committing crimes under part 3 of article 110 of the criminal code of Ukraine (intentional acts committed for the purpose of modifying the boundaries of the territory and the state border of Ukraine in violation of the order established by the Constitution of Ukraine which led to deaths and other serious consequences), part 2 of article 28 part 2 article 437 of the criminal code of Ukraine ("Waging aggressive war"), part 1 of article 258-3 of the criminal code of Ukraine ("Participation in a terrorist organization").
"Savision reasonably suspected that he in the period from February to July 2015 upon a preliminary collusion with a group of other authorities and officials of the Armed Forces of the Russian Federation, performing the duties of the commander of the 1 army corps – illegal armed formations, the so-called "people's militia DNR", by issuing orders, monitoring their implementation and coordination, through subordinate officers of the armed forces, provided on the territory of Donetsk and Lugansk regions daily conduct of subordinates illegal military units shelling positions ATO forces and armed attacks against members of the Armed Forces of Ukraine, other military formations and law enforcement bodies", – is told in the message.
According to the military Prosecutor's office, killing at least three thousand and injuring more than eight thousand members of the Armed Forces of Ukraine and other military units involved in the ATO and temporarily occupied areas of the Donetsk and Luhansk regions and caused significant material damage to the state of Ukraine.
The suspect is wanted, is preparing a petition for permission to arrest with the aim to participate in the consideration of the petition for election measures of restraint in form of detention.
Recall that in 2016, the head of GPU, Yury Lutsenko said that the Prosecutor General's office of Ukraine reported on suspicion to Russian defense Minister Sergei Shoigu, the Russian President's adviser Sergei Glazyev and 16 Russian officials, including two Deputy defense Minister and other generals of the high command of the Russian Federation.
Comments
comments