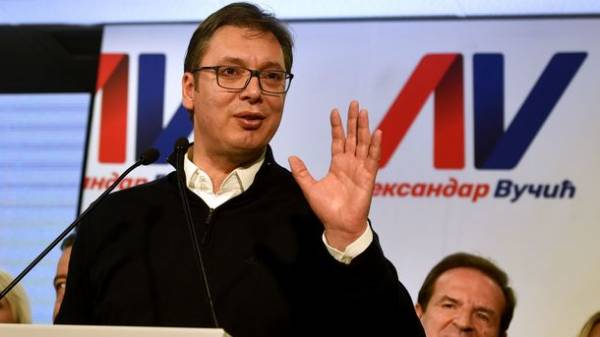 The Prime Minister of Serbia Aleksandar Vucic declared himself winner of the presidential elections held on Sunday, 2 April. This writes DW.com TV channel "112 Ukraine".
"Serbia will continue the European direction and path of reform, but also will keep the friendship with Russia and China," said Vucic, addressing his supporters at the headquarters headed by the Serbian progressive party in Belgrade.
According to Vucic, he will retain the post of Prime Minister of Serbia about two months before officially assuming the duties of head of state.
He also expressed "special gratitude" to the German Chancellor Angela Merkel and Russian President Vladimir Putin, who met with Survived before the election.
According to preliminary results, Vucic scored more than 55 percent of the votes making it the winner in the first round. His main rival from the liberal opposition Sasha Jankovic took the second place by a wide margin, gaining about 15 percent.
While third place was student Luke Maksimovic, acting as a mock candidate and received about 9 percent of the vote.
The official results of the presidential elections in Serbia will be announced on 3 April.
Aleksandar Vucic is Prime Minister of Serbia in 2014. In the past it was known as ultranationalist, but then changed his rhetoric and became an advocate for the entry of Serbia into the EU. Critics accuse Vucic in authoritarianism and that during his reign in Serbia increased the influence of Moscow.
Comments
comments