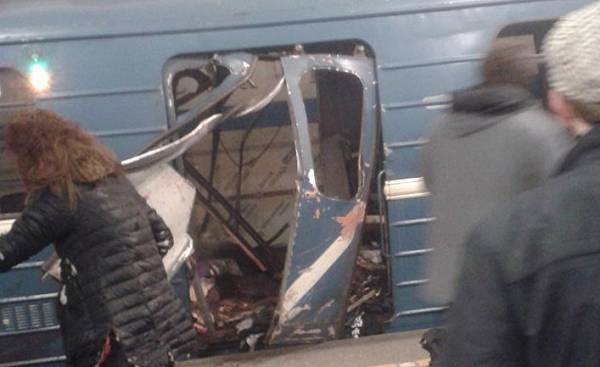 At the station "Sennaya Ploschad'", Saint-Petersburg subway explosion occurred. According to preliminary data, there are victims, but their number is still unknown.
In the photo from the scene of the incident visible wrecked car and lying on the platform people. In a press-service of the Petersburg underground have confirmed the fact of explosion in the subway, noting that, according to preliminary data, exploded "unidentified object".
The source of the Agency Interfax says that this subject could be an improvised explosive device. The spokesman did not rule out that it was Packed with striking elements.
Official information about the victims and survivors there. The Agency TASS with reference to sources reported about 10 killed in the blast, RIA Novosti news Agency also with reference to the sources reports about the same number of victims.
According to some reports, another explosion occurred at the neighboring station "Technological Institute", but this information is not officially confirmed. At the moment for entry and exit of passengers already closed seven stations of the Petersburg underground.
Russian President Vladimir Putin, who is in St.-Petersburg with working visit, reported about the explosion.
Pauline, an eyewitness:
— We went to school in the next car. At this time in the car, it was quite a lot of people were all sitting, and standing. The explosion between the stations "Sennaya" and "Institute of Technology". There was a deafening cotton, then a sharp smell, smoke. We immediately moved down the car, a crowd formed. The two women immediately became ill and they fainted. It all happened on the move, the train did not stop. "Institute of Technology" all came out. We saw that the wagon destroyed, Windows broken, no light, blood. Pulled out people, someone has carried, someone was holding. Victims had a lot of people 10-15 for sure. I don't know if the corpses in 1.5-2 minutes we went from there. We boarded the next train and went to the side of the "Leninsky Prospekt".
Oleg, witness:
— I drove by the station "Technological Institute" on the platform lay people and had a smoke. When the train stopped, people got out, but then the door quickly closed and the train went to the next station.
Explosions in the St. Petersburg metro was well planned, their strength exceeded 100 grams in a trotyl equivalent, according to the President of the International Association of veterans of counterterrorism "alpha" Sergey Goncharov.The TV channel "Russia 24" Goncharov said that, in his view, is "pretty well-planned act".Judging by the published photos from the scene of an emergency, the power of the explosion exceeded 100 grams, and as the explosives may have been used plastid, the expert believes. In his opinion, we are talking about the attack, but officially this information has not yet been confirmed.
News is supplemented by
Comments
comments