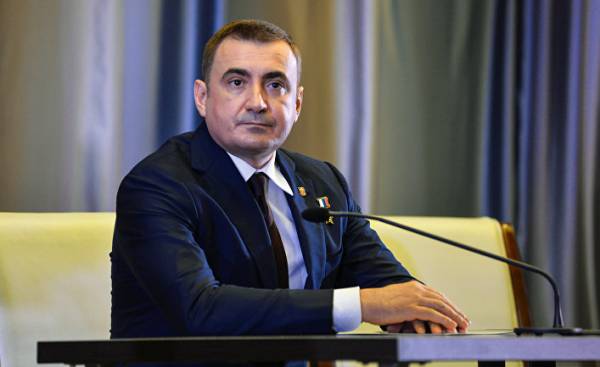 When Vladimir Putin later in the evening plays hockey in his own so-called "Night League", often the goalkeeper of rivals is 44-year-old Alex Dyumin. For many years he was a presidential bodyguard, and is now the Governor of the Tula region South of Moscow.
Hockey Putin became interested in recently. First, in 2011, learned to skate. Dyumin playing hockey since childhood, after school and even thought of becoming a professional goalkeeper, but — as formulated by the Kremlin reporter Andrei Kolesnikov of "Kommersant" has "an amazing ability to evade washers, abandoned the President," so Putin can throw your six to eight goals for the match.
It is loyalty in Russian, and loyalty — qualities that are valuing higher than any other. Perhaps Alex Dyumin will become the next President of Russia.
Admittedly, all this is extremely speculative divination about the man outside of Russia have heard a few. Judging by the database Infomedia, then this article is the first in which the Dyumin writes Danish daily press, and its production to Lieutenant General and Deputy Minister of defense in December 2015, this name hardly appeared in the Russian media.
But the decision-making process in the Kremlin are so non-transparent that we have to read tea leaves — also called kremlinology — if you want to try to get an idea of what and who ever will come after Putin.
In October, Putin will be 65 years old, but he shows no sign of physical weakness, and only once hinted that imagine life after the presidency, without specifying, however, when.
A General assumption is that Putin will put his candidacy for the presidential elections that are scheduled to be held in March next year. It is clear that the election he will win and will be able to remain in office until 2024. But if the Constitution won't change what Putin wants to avoid — then he will have a post of the President to leave.
The lightning career of bodyguard
Then it's time to talk about Alexis Dyumin, born in 1972 in Kursk, near the border with Ukraine, and studied electronics at a military school in the neighboring city of Voronezh. Because if you believe the Russian media, who are speculating on the theme of life after Putin, Dyumin is now one of the "hottest" candidates.
"It is obvious that Dyumin not accustomed to speak in public. But, as an officer, he is ready to execute any order", — says Kirill Martynov, political editor of the independent newspaper "Novaya Gazeta" and calls Dyumin one of two men who, quite possibly, will be targeted for participation in the presidential election in 2024.
Dyumin spent 15 years as a bodyguard of Vladimir Putin, after he became Prime Minister in 1999. Over the years he received higher ranks in the security service FSO. According to unconfirmed reports in the Russian media, he played a key role in the military intelligence service GRU, when in 2014 Russia annexed the Crimea, and helped the President of Ukraine Viktor Yanukovych to flee to Russia. He himself, in an interview with the newspaper "Kommersant" called the story of Yanukovych a "myth." And refused to speak about the Crimea.
But when, in December 2015, he was appointed Deputy Minister of defence, General public he was entirely unknown. A month later he was appointed Governor of Tula, where elections in September, has received 84% of votes.
This lightning-fast political career, combined with the fact that Dyumin publicly praised Putin, and the fact that in the last year of him on state-controlled Russian television channels say more — and always favourably — than any other Governor, suggests that the purpose of the former bodyguard of the President is something more.
Two weeks ago, one of the biggest TV channels "Russia 1" presented a 14-minute portrait Dyumin during Prime time, it's hockey played, and with the workers and students met. From the plot, it was possible to find out how he was concerned that the pipeline has been repaired, and how to resolve the conflict with the Gypsies in the area. And the journalist was interested in, what is its ideological platform: who he is — a liberal, a conservative or a traditionalist?
"As for ideology, I am a patriot. I am proud that the President appointed me to this position. I consider my office in Tula as a goalie: is the last Bastion of the team, and opportunity to commit the error I have," answered Alex Dyumin.

Chief strategist became a politician
Another name often encountered in speculation in the Russian media — Vyacheslav Volodin, currently is the speaker of the lower house of Parliament, the state Duma.
53-year-old Volodin, a native of Saratov, having education as an engineer and a lawyer, for many years ruled by Putin's party of power, "United Russia" and its predecessor "Fatherland — all Russia". Until the last presidential election in 2012, he was Deputy head of Putin's administration, since he is considered the main strategist in the Kremlin. And one of those closest to the President.
When he participated in the parliamentary elections last fall, and then, as expected, was appointed speaker of the Duma, some observers called it a downgrade, since the real power is not in Parliament. Others pointed to the fact that as Chairman of the State Duma Volodin will become a more public figure and yet can be "tested" by Putin.
"Dyumin and Volodin at the same time came to the scene in public policy, and this may be a prelude to the long casting successors," wrote Kirill Martynov in "Novaya Gazeta" and pointed out that the main feature uniting these two, is "an unconditional personal loyalty to Putin." In 2014, Volodin said at the conference:
"There is Putin is Russia, not Putin — not Russia".
Medvedev, a reliable map
One can also assume that Putin will count on a well-known name, Prime Minister Dmitry Medvedev, who has already demonstrated his willingness to play second fiddle, officially being the most powerful man in Russia — as President in 2008-2012.
Medvedev's 51, he's younger Volodin, he is the candidate who has no serious disagreements with someone from Putin's inner circle. Against it speaks the fact that sometimes Medvedev when he was President, he behaved quite independently, especially in time of war in Libya in 2011, and that Putin return to the post pointedly abolished many of the minor reforms which stood for Medvedev.
And although Medvedev to the surprise of many was able to remain Prime Minister, on Russian television, he rarely appears as a man who has real power. TV shows are willing to Medvedev, lightly dozing at official events.
"The time will come when Putin will be forced to name his successor. It could be Medvedev or at least tested the map, but the decisive factor here will be the complete loyalty of the candidate. And then Putin will be able just to step back perhaps bothering to change the Constitution so that he became the ideological leader of the second — as Khomeini in Iran or Deng Xiaoping in China," said Lev Lurye, historian, journalist and liberal commentator from St. Petersburg. All these considerations suggest that Putin himself will be able to make decisions. He will not die suddenly and will not become a victim to a Palace coup or revolution.
In case of the sudden death of the acting President, Prime Minister, and then according to the Constitution within three months will have to hold a presidential election.
The risk of a power struggle
One of the likely options, then, will be that the power elite will allow Medvedev to continue as a relatively weak President, and that therefore there will be a transition to the so-called collective leadership. Another possibility is that they will converge on the stronger figure, such as defense Minister Sergei Shoigu, who, according to opinion polls the most popular politician in the country after Putin. Or perhaps Igor Sechin, a longstanding faithful squire Putin, who now heads the oil company "Rosneft".
The third possibility — long struggle for power with unpredictable consequences. But although some informed observers foresee such an option, many others tend to think that the power elite will negotiate some kind of reasonable decision — even for their own self-preservation.
After the annexation of Crimea, the imposition of sanctions against Russia and the fall of the ruble in 2014 was a lot of speculation about a possible Palace coup against Putin. Few serious observers then it was led, today, such speculations are almost there.
In opinion polls, Putin is more popular than ever, the geopolitical position of Russia has long been so optimistic, and the economy — although it is not healthy — it is not so hopeless.
The improved economic situation means at the same time that less and less people believe in a social explosion or revolution.

Putin is better than revolution
No matter how unhappy Putin a liberal-minded Russians, they are afraid that a violent change of power will make the situation in Russia much worse than it is now. Apparently, the new powers will not include such relatively liberal forces, like Alexey Navalny or former oligarch Mikhail Khodorkovsky, but there could be such hard nationalists like Igor Strelkov, one of the leaders of the Russian militia in Eastern Ukraine in 2014.
"Shooters is a real danger, and in the case of a revolutionary situation, he can win" — that is the rating of Lev Lurie.
Dmitry Travin, Professor of Economics and liberal political scientist from St. Petersburg, says that the revolution "a La 1917" almost completely eliminated.
"The situation in Russia does not look like the one that was a hundred years ago. We stagnate, and we will support it for a long time, but it is more reminiscent of the Brezhnev era, when they were unhappy with everything, but nobody rebelled. If there are dissidents, the KGB pressed them hard. This is similar to the situation today," he said.
Travin recently wrote a book called "Survive if Putin's system until 2042?", i.e. whether it will last another 25 years. His own short answer is: "Yes, probably".
"The elections in 2018, Putin will win. As for 2024, here, to predict something difficult, but maybe we will have a new Constitution. It is very likely that Putin will continue to make decisions many years in the future", — says Dmitry Travin.
Comments
comments