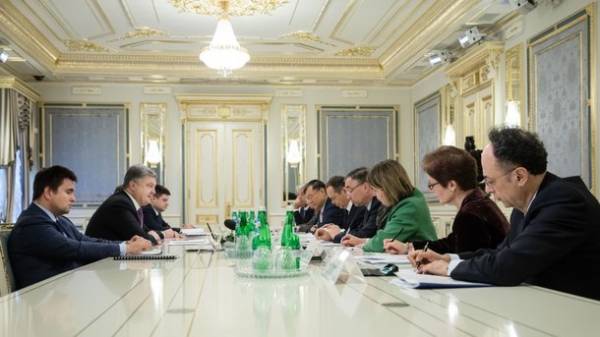 The President of Ukraine Petro Poroshenko has held a meeting with ambassadors of the countries "the Big seven" and the European Union, during which the parties came to agreement on further comprehensive support of reforms in Ukraine and the continuation of pressure on Russia in the question of a cease aggression against Ukraine, the press service of the President of Ukraine.
"Special attention was paid to the worsening situation in the Donbass in connection with the last destructive actions of Russia on the territory of individual regions of Donetsk and Lugansk regions, which undermined the peace process and further implementation of the Minsk agreements", – said in a statement on the presidential website.
Reportedly, the two sides agreed to "continue the pressure on the Russian authorities to return the situation into the framework of the Minsk agreements, including through the preservation and, if necessary, the tightening of international sanctions against Russia."
In addition, the President and ambassadors discussed the decision of the Council of national security and defense of Ukraine on the suspension of the movement of goods between Ukraine and the temporarily occupied territories of Donetsk and Lugansk regions.
"The ambassadors expressed their understanding by resorting to such steps (decisions of the Council. – Ed.) the Ukrainian authorities subject to illegal expropriation of Ukrainian property and the irresponsible actions of some political forces regarding the unauthorized and ill-considered so-called blockade of railway tracks in Donbas", – stated in the message.
The parties came to agreement in the question of the importance of preventing the deterioration of the humanitarian situation on both sides of the line of differentiation and the adoption of joint measures to minimize the negative effects of the restriction of movement of goods for the civilian population.
Poroshenko informed the ambassadors about the "progress and perspectives in implementation of the program of internal reforms, in particular in the part of the anti-corruption policy, judicial reform, decentralization, deregulation, energy, health and creating an attractive investment climate."
Following the meeting, the parties came to agreement on further comprehensive support of reforms in Ukraine from the countries "the Big seven" and the EU.
Comments
comments