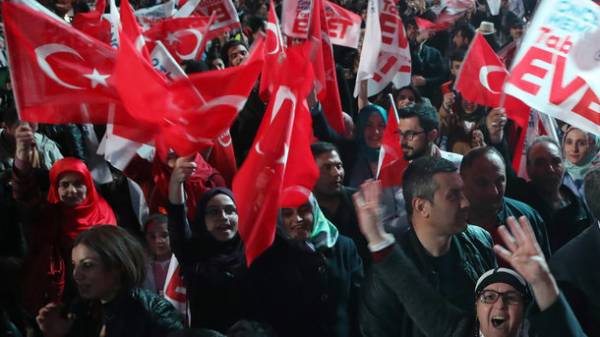 Pan a referendum, which may be a result of the transformation of the country from a parliamentary into a presidential Republic, began on Monday. While it can participate only citizens living outside of Turkey in six European countries, reports the BBC Russian service..
Voting for residents of Germany, Austria, Belgium, France, Switzerland and Denmark will run from 27 March to 9 April. April 16, a referendum will be held in Turkey.
If the citizens of Turkey approves the proposed amendments to the Constitution, the President will gain new powers: he can form a Cabinet, present the budget, choose the most of the judges and publicati decrees which will have the status of laws.
The President also can declare a state of emergency and dissolve the Parliament.
In the referendum, attended by about three million Turkish citizens living in other countries – half of them in Germany.
The authorities of the countries of Europe were not allowed to conduct any political actions in anticipation of the referendum, which provoked a sharp conflict between Turkey and the European countries.
The Turkish President accused the West of Islamophobia. "I said that Nazism is gone, but I was wrong, Nazism is alive in the West," he said.
In Bern, Switzerland on Sunday held a mass rally in which participants called for a vote against the proposed amendments. The rallies were attended by thousands of people, including living in Switzerland Kurds.
In response, the Turkish Ministry of foreign Affairs summoned the Ambassador of Switzerland and stated that the promoter was banned in Turkey Kurdistan workers ' party. The PKK is recognized as terrorist organization by Turkey, the EU and the USA, but not in Switzerland.
Comments
comments