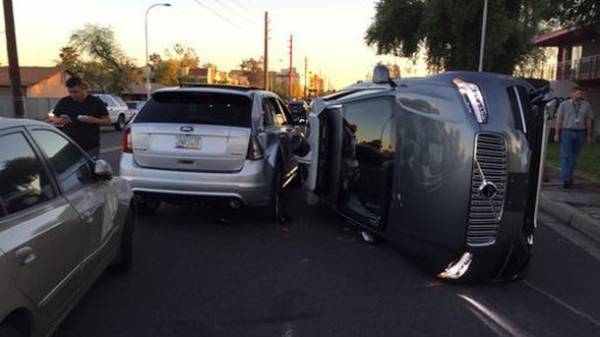 Test Volvo XC90 SUV Uber, equipped with systems of Autonomous control, crashed and turned over on his side in Arizona. Photos of the incident published Fresco News, – the "Motor".
As Carscoops notes, behind the wheel of the unmanned vehicle was an engineer, but a system of independent control was included. Local police confirmed that the perpetrator of the incident was the other car that crashed into a drone.
BREAKING: Self-driving Uber vehicle on it's side after a collision in Tempe, AZ.
Photos by @user fresconews Mark Beach pic.twitter.com/5NCF2KG0rW
Fresco News (@fresconews) 25 Mar 2017
In road accident nobody suffered. The company Uber has decided to suspend tests of unmanned vehicles on public roads in Arizona.
#UPDATE: No injuries yet reported in an accident involving a self-driving #uber, captured by @user Mark fresconews Beach in Tempe, AZ. pic.twitter.com/kmizvRD5WP
Fresco News (@fresconews) 25 Mar 2017
Earlier it was reported that in early March, the Autonomous machine of the company passed 32 thousand test kilometers. The human intervention in management was required on average every 1.6 kilometers.
In October 2016 became aware of the fact that the unmanned vehicles Uber was spotted during traffic violations. In particular, in the Internet appeared the video, where one of the prototypes with an activated Autonomous control system is trying to get a one-way street in the opposite direction.
Comments
comments