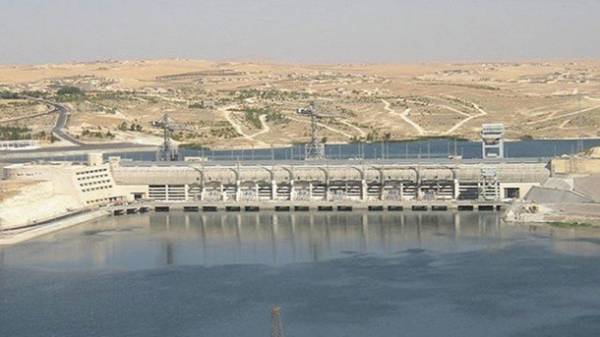 The largest in Syria, the Tabqa dam on the Euphrates partially destroyed due to the fighting between the armed coalition of "Democratic forces of Syria," and the terrorist group "Islamic state"*, according to the Lebanese TV channel "al-Mayadin".
HPP was built in the early 1970-ies with the assistance of Soviet specialists. Dam "Tabka" holding back the country's largest reservoir El-Assad.
The channel, citing informed sources said, the power plant stopped working once the control is out of order. As told the interlocutor of the channel, the reason could be an airstrike or shelling. Technicians can't get to the facility due to ongoing intense fighting.
Mixed Arab-Kurdish DSS are at a distance of not more than four miles from the dam. Their next goal is the mastery of the city of Tabqa, the last major stronghold of the ISIS on the way to the "Syrian capital," the group raqqa.
DSS is not in a hurry to storm the Euphrates HPP, fearing that terrorists might undermine it, according to "al-Mayadin".
Last week a press-the Secretary of DSS Talal Village said in an interview with the newspaper "al-Watan", which is complete isolation of Raqqa will take no more than 15 days. After that, the forces of the "Democratic forces of Syria" with the support of the air force of the international coalition led by the US will start a decisive assault on the city.
The militants held Raqqa in 2013. Government forces tried several times to recapture the city, but to no avail. According to experts, now there can be three to four thousand fighters.
Comments
comments