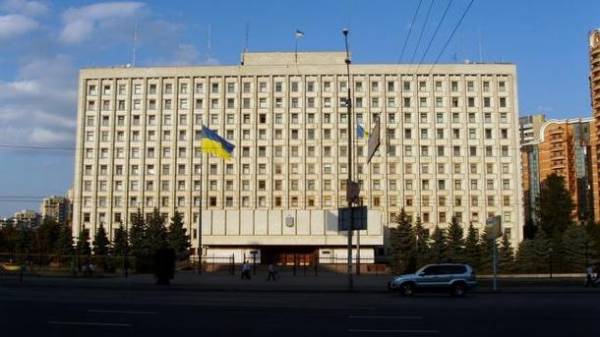 This is evidenced by the response of the SBU on the appeal of the Chairman of the Kyiv regional administration, which is at the disposal of "Ukrainian truth".
It is reported that for this decision at the meeting on 5 September voted 43 of 44 deputies out in the audience.
According to the official website of the regional Council, the deputies who supported this petition, set Ivan Kudlai.
However, according to the SBU, Kudlay could not vote for the decision, because at the time the meeting was outside of the country.
According to the letter of the state border service on August 27 he left from the airport "Borispol" in Antalya (Turkey) and returned to Ukraine on 6 September.
"The foregoing evidence of falsification of voting during the adoption of the Kyiv regional Council decision of 5 September", – informs the SBU.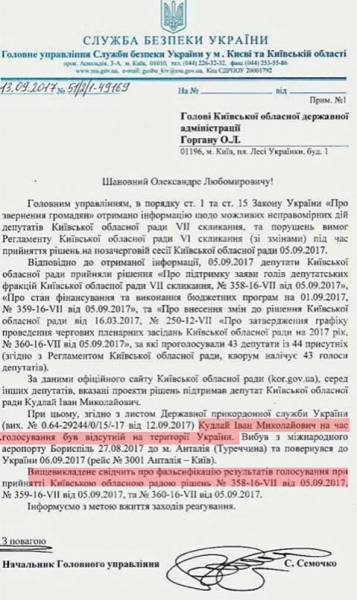 As you know, according to the regulations of the Kiev regional Council, a quorum consists of 43 deputies.
According to the head of procedural Committee of the regional Council of the Roman tytykalo, he doesn't remember, he was a Deputy Kudlay at the meeting on 5 September, but admits that his card voted.
"This is the letter of the SBU know, the regulatory Commission does not consider the number of people. Number is calculated by inserting cards into the electronic system. Who was there, who was not, I don't know. There is an appeal to the Commission, this question will be considered", – said tytykalo.
He stressed that a vote for the decision should be personal.
"So, today we will hold a regular Commission. Invited Kudlaya, ask him whether it was not whether he was abroad. Need to get official answers, and then decide on further decisions," said tytykalo.
As you know, September 5, the Kiev regional Council has gathered for an extraordinary session, which was to consider the draft decision, asking the President to release from his post of Chairman of the Kyiv regional administration Alexander Gorgan.
The cause of this draft decision, the deputies called the failure of the budget region.
Later, the Council voted to appeal to the President to make personnel decisions on the management of KOGA in connection with the failure of the budget of the region, but without identifying specific names.
Chairman KOGA, Alexander Gorgan called such actions of the deputies "reaction to his reforms and the fight against corruption".
Irina Balazuc, "the Ukrainian truth"
Comments
comments