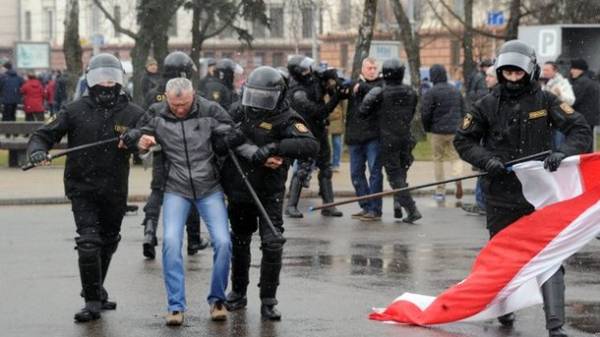 The Ministry of foreign Affairs of Belarus do not understand what "non-European" Western politicians saw in the actions of Belarusian law-enforcement bodies on Saturday, reports UNN with reference to BelTA.
"Yesterday's action was unauthorized. Participation in unauthorized actions draws specific implications in any country of the world. And that "non-European" were able to see the actions of our law enforcement agencies of Western policy? In Minsk dispersed the demonstrators with water cannons? Can be sprayed gas? No. And, thank God, has done without victims", — said the press Secretary of the foreign Ministry of Belarus Dmitry Mironchik.
He also noted that the right of citizens to peaceful Assembly enshrined in the Constitution.
"However, the key word here is peaceful. If the events take place "Molotov cocktails", customize the cars with weapons, connect the anarchists, calling such an action, civilians do not dare", — said the representative of the foreign Ministry of Belarus.
Also, according to him, in conditions of increase and expansion of geography of the terrorist threat to the authorities, it is important to be especially vigilant.
"This is the lesson we have learned from recent terrorist attacks in London, Berlin, Paris, Brussels, nice. This was guided by the Belarusian authorities on March 25. The main task was to ensure the security of citizens and to prevent bloodshed, especially considering the available information on the provocations," — said the Belarusian Ministry.
According to the spokesperson, the actions of law enforcement structures have been completely adequate.
The Belarusian opposition planned to hold on March 25 in Minsk two actions against the law on parasites and to celebrate the "freedom Day". Minsk authorities have proposed a "freedom Day" in the Park of Friendship of Peoples, but the organizers did not agree to such terms.
Promotions to celebrate the "freedom Day" also took place in other Belarusian cities: Gomel, Vitebsk, Grodno and Brest. Agreed they were only in the last two cities.
In Minsk they ended in mass arrests. The defenders were the hundreds of detainees.
Towards evening the people began to release from the police, certain without a Protocol.
Comments
comments