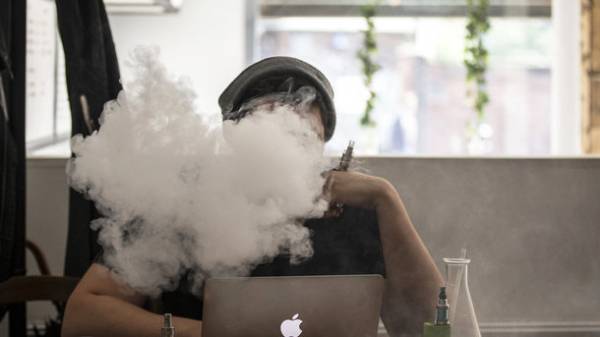 In Ukraine, for four years, the number of smokers decreased by 2.5%, according to the study by KIIS. In this case, young people aged 18 to 30 years of age smoke less. In 2013, among them were 37% of smokers, now only 26.7%. However, in Ukraine, the growing popularity of electronic cigarettes and the number of hookah cafes. The Verkhovna Rada has prepared a bill prohibiting the selling of electronic cigarettes to minors. Why Ukraine wants to restrict the sale of electronic cigarettes and what's wrong with Shisha, learned website Today.
Harmful than e-cigarettes and hookah?
In Ukraine from 23.7% of the smokers smoke electronic cigarettes and 5.6% of men and 3.9% of women, according to a study by KIIS. The world health organization (who) note: in the world – the boom of electronic cigarettes. According to forecasts, by 2030 the market for alternative cigarettes will increase 17 times. Independent scientists have not yet studied the effect of electronic cigarette on health, and the first data may appear through the decades, according to who. But you referred to possible health risks: cardiovascular disease, occurrence of tumors and of nicotine addiction. The nicotine in electronic cigarettes can be allocated on the low level and at a level comparable to conventional cigarettes. It depends on the device parameters and the concentration of nicotine liquids.
"Aerosol electronic cigarette not just "water vapor", as claimed during the sale. Electronic cigarettes pose a serious threat to adolescents and pregnant women. They enhance the effects of nicotine and some toxic substances on others. However, quality electronic cigarettes are likely less toxic substances than regular cigarettes. However, at present we are not aware of the magnitude of risk reduction," reads the who report.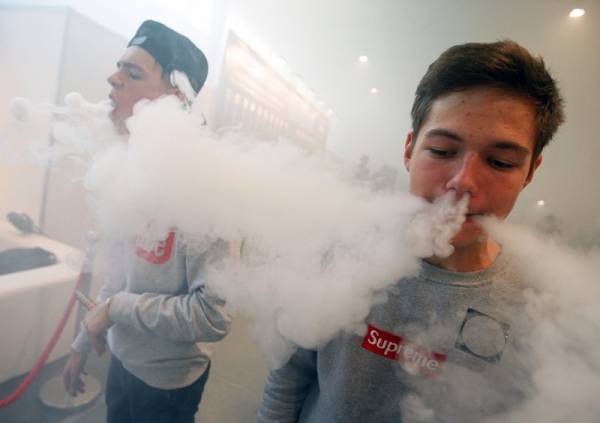 Ecig electronic cigarette can even a schoolboy. Photo: rafinadhome.ru
But the organization did laboratory analysis of hookah smoke. So, hookah smoke contains formaldehyde and benzene, nitrogen oxide, heavy metals and other harmful components. They lead to heart disease, and lung cancer. Toxicants when Smoking a hookah stand out more than when Smoking cigarettes. 85% of the components of tobacco smoke from hookah is no odor and color. They are poisonous. Besides the Shisha charcoal is used for this in the room two times more carbon monoxide than cigarette smoke. More likely to suffer from this, workers of hookah.
A study by the world health organization confirmed that even occasional hookah Smoking can get non-smoker reach for a cigarette. Although in Ukraine there is no culture of daily hookah Smoking, in 2016, it's been smoked, 7.7% of men and 6.8% of women. The number of hookah smokers will grow along with the increasing number of hookah cafes in the country. Hookah is dangerous for teenagers, because the hour of his Smoking is equal to Smoking 100 cigarettes.
"Hookah cafes are actually working illegally. But if the hookah smoke on the terraces, then they are not breaking the law. When the law on the prohibition of hookah Smoking in the premises has entered into force, and then hookah fined and their number reduced. But then imposed a moratorium on checks of business. Hookah use what actually canceled checks", – says head of sector of control over tobacco of the Ukrainian Institute of strategic researches Ministry of health Konstantin Krasovsky
That will change the bill number 2820
In the legislation of Ukraine there are no age restrictions on the sale of electronic cigarettes and Smoking Shisha. But the law prohibits their use in public places. Bill No. 2820 proposes to ban selling electronic cigarettes to minors, amazingprostate to indicate on the packages the information about contraindications and potential health risks, and to prohibit their advertising. The who notes that in 29 countries and electronic cigarette can buy and in 39 countries the law prohibits to advertise the electronic cigarette.
The bill number 2820 offer:
to increase the image size on the dangers of Smoking to 65% packs, and drawings notice to change annually;
prohibit tobacco products with flavors and tastes;
to regulate the sale and labeling of electronic cigarettes;
to oblige the electronic cigarette manufacturer to report to the Ministry of health about the ingredients of e-liquids and components that stand out with the smoke;
a complete ban of cigarettes online;
to specify the composition of all components.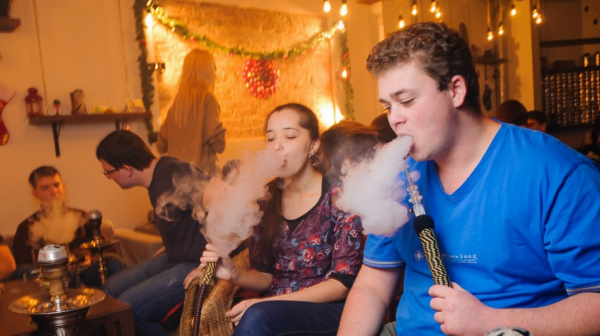 Hookah smoke is 100 times more dangerous than cigarettes. Photo: hookah-in-city.ru
Doctor of medical Sciences and editor-in-chief of the international journal Tobacco Control and Public Health in Eastern Europe Tatiana I. Andreeva says that the majority of smokers believe e-cigarettes means of Smoking cessation.
"Electronic cigarettes are not considered tobacco products. They are moving in the market with deceptive advertising about their safety. But European research indicates that electronic cigarette Smoking are not the only ones who quit Smoking, and young people. We need to change the status of electronic cigarettes so that people understand what it really is, and the kids did not start Smoking them," – said Tatiana Andreeva.
According to the coordinator of the public organization "Life" Oksana Tutovichi, work hookah cafes in the country is booming due to the fact that a law banning Shisha Smoking in cafes and restaurants was not working. This contributes to a moratorium on inspections of businesses. Besides, hookah, no one's passport is not checked.
"Even if you write a complaint that there is smoke, rospotrebsoyuz will not be able to go this check, and if I could, in some cases. And from 1 January 2017 these complaints they should coordinate with the Ministry of economic development and trade. Our organization in 2016, held a RAID on the implementation of the law, and we sent about 100 complaints. We received 50 rejections. To jeopardize the implementation of anti-Smoking law", – said Oksana Hotovitsky.
As in Ukraine, fighting with Smoking
Raising taxes on cigarettes is the main method of struggle against Smoking. In Ukraine, the excise rate on cigarettes is growing since 2008, during this time, sales volumes of cigarettes fell from 124 billion to 73 billion, and budget revenues increased from 3.5 billion to 22.2 billion. From 1 January 2017, the excise rate in Ukraine has raised on 40% and it will raise further. Ukraine shall gradually increase excise rate on cigarettes to 90 Euro per 1000 pieces for the Association Agreement with the EU. Now the excise tax is only 445 UAH or of 15.39 euros, and the necessary level of the country reaches only to the 2024, if you raise the tax annually. By this time, it is expected that the consumption of cigarettes will be reduced to 40 billion cigarettes from the current 73 billion.
Another bill that will limit the spread of Smoking – No. 4030а. It is prohibited to place cigarettes in the Windows of kiosks and shops.Such a rule is already in force in EU countries in Belarus, Moldova and Russia. Among the requirements of the bill is to make offices, factories, hotels and stations are 100% Smoking free. As well as raising the fine for Smoking in public places with 51-170 UAH to 340 UAH.
"We began to smoke less and it is proved that the increase in excise taxes – good for the state. On the one hand it gets more revenue: in 2008, the budget received UAH 3.5 bn, in 2015 – UAH 22 bn, with another – reduces tobacco and treatment costs of smokers," – said the Chairman of the Ukrainian center for tobacco control NGO "Life" Andriy Skipalsky.
The state does not create conditions for smokers, but only creates conditions for violation of the law, says the head of the organization "For the rights of smokers" Igor Zagoruiko.
"We are not promoting Smoking, but we ask you to equip normally designated Smoking area. For example, in the trains and stations are non-Smoking. There are certainly conductors who turn a blind eye. But this is not enough, because the person Smoking can be fined. In many institutions, no Smoking areas and the need to go out. Summer is fine, but when rain or winter, it is not very nice. Why not make a comfortable place for Smoking on the premises with good hoods?" – asks Igor Zagoruiko.
Regarding the increase in excise duties on cigarettes, he adds: "Raising excise rates on cigarettes does not affect the reduction in the number of smokers. People just start Smoking a cheaper and lower quality cigarettes, develops contraband."
Comments
comments